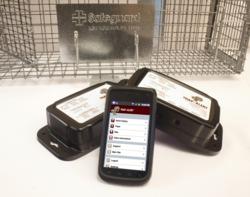 ...the Trap-Alert® System is a natural extension to their mobile devices and smart phones...
Cumming, GA (PRWEB) December 12, 2012
New Frequency and Forestry Suppliers of Jackson, Mississippi today announced a new product distribution partnership. Forestry Suppliers is adding the Trap-Alert® system to their already impressive list of product offerings, and will begin sales of the Trap-Alert® in early December. The Trap-Alert® system is a combination of hardware, software, GPS and wireless technologies that allow researchers, professional wildlife control operators and government agencies to monitor multiple styles and types of animal traps and exclusion devices and actively receive trap status updates, including the GPS location of animal trap sets, all through web-based and mobile applications.
Todd Moran, President of New Frequency, stated that, "adding a company like Forestry Suppliers as a distribution partners is a big win for our business and the industry as whole. Anytime you can partner with a company that has been providing high quality products for over 60 years, you jump at it." Moran further noted that, "Forestry Supplier's broad and loyal customer base allows our product to penetrate multiple market segments in several countries other than United States, thereby reinforcing our competitive advantage and leading position in the market place. In today's competitive and high cost business environment, wildlife management specialists, research entities and government agencies are looking for ways to reduce costs, improve profitability and be more customer friendly and the Trap-Alert® system is a tool that allows them to accomplish these goals."
Ken Peacock, Forestry Suppliers VP of Marketing, stated, "The Trap-Alert® System is a welcome addition to our wildlife management product selection. Our customers in this segment operate on very close profit margins, and the Trap-Alert® System will help them increase productivity and control expenses, especially with rising fuel costs. As our customers continue to invest in technology, the Trap-Alert® System is a natural extension to their mobile devices and smart phones with the ability to monitor their sets from anywhere."
To learn more about the Trap-Alert® system go to: http://www.newfrequency.com
About Forestry Suppliers
Forestry Suppliers, Inc. is a worldwide supplier and distributor of general-use and specialty products and equipment for the forestry, arboricultural, landscaping, environmental, wildlife management, education and engineering markets. Founded in 1948, Forestry Suppliers, Inc. maintains a distribution warehouse, administrative headquarters and retail outlet in Jackson, Mississippi. For more information, visit http://www.forestry-suppliers.com.