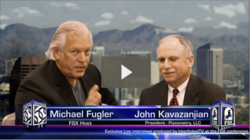 We think it's a big market.
(PRWEB) December 13, 2012
FSX held their 117th Quarterly Conference from October 25-27 in Phoenix, Arizona. The companies that presented at this Investment Conference had the opportunity to be interviewed by an FSX Host.
FSX Host, Michael Fugler, interviewed John Kavazanjian, President of Pizzametry on their entrance to the pizza industry. The pizza business in America is a dynamic industry that continues to grow every year. Recent statistics indicate that the market for fresh pizza in the United States is about $37 billion annually. And Pizzametry will soon have a slice of this billion dollar industry. During the interview Kavazanjian said their fully automated pizza machine would soon be on the market in a vending machine format that makes freshly prepared pizza in 3 ½ minutes. Their target marketplace are 24 hour operations such as hospitals, college dormitories, trucking facilities, police stations, army bases, airports; places that require people to wait for extended periods of times and typically have no alternative. "When you can go get a freshly cooked pizza, that is burn the top of your mouth hot, and it's really good, in 3 ½ minutes; we think it's a big market" added Kavazanjian.
Pizzametry will soon start their market trial, followed by pre-production build of 30 machines and then mass production.
The complete Pizzametry interview, as well as all the presenting companies interviewed at the FSX Investment Conference, is available only on FSX Interlinked's Web Channel, an on demand Video Channel that offers a glimpse into their private network of Partners and Companies.
About Pizzametry & InterlinkedTV
Pizzametry, LLC has developed an automated machine that produces fresh pizza. Over $15 million has been invested in the process, ingredients, and machine development, resulting in the first units ready for field test and subsequent full-scale manufacturing. The Automatic Pizzeria is based on proprietary technology for on demand production of freshly cooked food products. Combining a fast-cooking dough technology, a proprietary cheese delivery and automated boxing system, it creates a freshly cooked eight-inch pizza in 3 varieties in just over 3 minutes.
InterlinkedTV.com is an internet video production and distribution site dedicated to private enterprise, venture capital news, and investment events. We are bringing you this exclusive content through our partnerships with conferences, investment events, companies and IR firms.