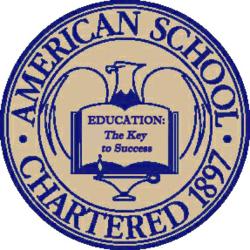 Lansing, IL (PRWEB) December 14, 2012
The American School, a leader in high school distance education since 1897, is pleased to announce the following personnel changes:
Dennis Peters has been named Chair of the English department. Since joining the American School in 2002, Dennis has graded many English subjects and has collaborated with the curriculum department on a variety of course and exam revisions, something he hopes to continue in his new capacity.
"I look forward to serving the American School and its English department to the utmost extreme," Dennis said. "I like the familial environment here and the fantastic team of people with whom I have the privilege of working."
John Skaro has been named Assistant Chair of the English department. Before coming to the American School in 2001, John earned multiple degrees in education and was a classroom teacher for many years. Like Dennis, John has graded many English subjects, but he considers Writing (formerly Build Your Writing Skills) as his favorite subject to grade.
"I look forward to keeping the English department strong and vibrant with the continued cooperation of full-time and part-time instructors," John said.
Dennis and John take over for previous English Chair Sarah Hunter, who moved into a new role in the Curriculum department.
"I am very excited to be working in Curriculum! I'm joining at the right time to use my knowledge, experience, and enthusiasm to help build our online courses and online exams," Sarah said. "There is no doubt I will miss working in Instruction every day. I enjoyed helping the students by grading exams, answering emails and taking phone calls. Working with the students, as well as revising study guides, creating exams and alternate exams, and choosing content for the students, has given me valuable insights that I am looking forward to using while helping to shape the way our students learn."
The English department is by far the American School's largest subject area, with the School offering 24 unique English courses. In total, the American School offers more than 80 high school courses in a variety of subject areas.