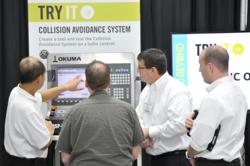 Charlotte, NC (PRWEB) December 14, 2012
Over 500 people attended the recent CNC Technology Showcase held at the American headquarters of machine tool builder Okuma America Corporation. The event featured 26 CNC machines, 38 members of Partners in THINC, five seminars, hands-on Try It stations for the THINC®-OSP control, three racing showcars, two guest speakers and countless opportunities to learn how to improve productivity using CNC technology.
Cutting demonstrations were held on most of the CNC machines, including the MCR-BIII double-column machining center performing heavy milling on A36 steel, the new MU-10000H 5-axis horizontal machining center cutting an aircraft part, a butterfly valve and a rotary engine block. The GENOS M-460 vertical machining center cut parts from titanium 6AL4V and composite materials and the MB-4000H horizontal machining center, connected to an AMPS flexible manufacturing system, cut a variety of parts, including Inconel (using a ceramic end mill), steel and aluminum.
Other Okuma CNC machines on display included:

o GENOS L200M horizontal lathe – 2-axis turning center with live tooling
o LB2000 EX and LB3000 EX – horizontal lathes
o LT2000 EX and LT3000 EX – 3-turret horizontal lathes with live tooling
o LU300-2M and LU3000-M – 4-axis lathes with live tooling
o Multus B200 – multi-function lathe featuring blisk cutting
o Multus B750 horizontal lathe
o VTM-80YB, VTM200YB & VTM-1200YB – vertical turning lathes

o MA-600HII – featuring Turn-Cut functionality

o Millac 33TU – vertical lathe/5-axis machining center

Grinder – GC-34 Cam Grinder
Wheel Cell – MB-56-W & LAW-V24 with robot
Attendees had an opportunity to win one of three iPads by completing any of the user-friendly, self-directed "Try It" demonstrations of the new Okuma THINC®-OSP-P300 control. Users could try a number of applications including the Collision Avoidance System, One-Touch IGF, 3D Virtual Monitor, Caron Engineering's TMAC and dataZen's Mira.
Thirty-eight members of Partners in THINC were on hand, representing tooling, gaging, software and other machine tool accessory equipment. The Partners also facilitated a session titled "Bring Your Problems, We'll Supply Solutions", where experts answered questions to solve attendees' CNC technology challenges.
Special guest speakers included Richard Childress Racing driver Jeff Burton and Director of Market Intelligence for Gardner Business Media, Steve Kline. Jeff Burton took the opportunity to meet customers, sign autographs and pose for pictures with the #31 CAT racing showcar.
Kevin Harvick's #29 Okuma Chevy was also on display along with a cut-away Indy Car, painted in an Okuma paint scheme, provided by Target Chip Ganassi Racing.
The event also featured behind-the-scenes tours of the Okuma America Corporation headquarters where visitors were able to see service areas, including the mechanical and electrical exchange departments, and talk with the Okuma service providers and customer service and call center representatives. Okuma's senior management staff, including President and COO, Jim King and CEO, Tad Yamamoto, were on hand to talk and meet with customers.
Next year's Technology Showcase will be held December 3-5, 2013.
To learn more about this event and others, visit the Okuma events page at http://www.okuma.com/events.
###
About Okuma America Corporation
Okuma America Corporation is the U.S.-based sales and service affiliate of Okuma Corporation, a world leader in CNC (computer numeric control) machine tools, founded in 1898 in Nagoya, Japan. The company is the industry's only single-source provider, with the CNC machine, drive, motors, encoders, spindle and CNC control all manufactured by Okuma. Okuma's innovative and reliable technology, paired with comprehensive, localized service protection, allows users to run continuously with confidence – maximizing profitability. Along with its industry-leading distribution network (largest in the Americas), and Partners in THINC®, Okuma facilitates quality, productivity and efficiency, empowering the customer and enabling competitive advantage in today's demanding manufacturing environment. For more information, visit http://www.okuma.com or follow us on Facebook or Twitter @OkumaAmerica.
About Partners in THINC
Partners in THINC is a collaboration network of more than 40 industry leaders who come together to solve problems and explore new productivity ideas for real-world manufacturers. With the open architecture, PC-based THINC®-OSP control as its nucleus, Partners in THINC brings specialized equipment, expertise and a commitment to provide the best possible integrated solutions to the end-user. For more information, visit http://www.okuma.com/partners-in-thinc.