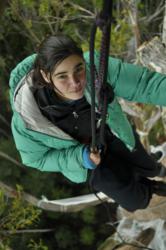 I haven't set foot on the ground in a year, after vowing to stay here until the forest is protected
(PRWEB) December 13, 2012
On December 14th 2012 Australian environmentalist Miranda Gibson will mark one year since stepping foot on the ground. From her high-tech tree sit, Ms Gibson will conduct a live-stream broadcast to the world.
"When I climbed this tree I vowed to remain here until the forest was protected. I had no idea how long I would have to stay up here. Sadly, Tasmania's forests remain under threat from industrial scale logging and so my action is set to continue," said Ms Gibson.
"It has been a challenging year, living isolated at the top of this tree. However, it has also been incredible to experience first hand the values of these forests, including witnessing endangered wedge tailed eagles soaring above me and enjoying the forest snow fall of winter," said Ms Gibson.
The 31 year old high school teacher has been living on a small platform suspended at the top of the tree. Known as The Observer Tree, Miranda's action has gained international attention. Using solar power Gibson has connected with people around the globe, conducting talks via the internet and updating a regular blog.
Thousands are expected to take part in a global cyber event. A live video feed will broadcast Miranda to the world, with participants able to send in comments and questions. The event will also feature international guest speakers including Julia Butterfly Hill, Derrick Jensen and campaigners from the Unist'ot'en Camp.
World record holder for the longest tree-sit, Julia Butterfly Hill has spoken out in support of Miranda. "Having spent over two years in an ancient redwood tree in Northern California in the United States to protect it and call attention to the plight of our old growth forests, I understand first hand what an incredible sacrifice Miranda is making in her commitment," said Hill.
A message of support also comes from the Unist'ot'en Camp: "People from all over Mother Earth will immediately need to stand together in defence of the life systems which many of us have become disconnected to yet 100% still depend on. Solidarity from us at the Unist'ot'en Camp in North Central BC, Canada!"
Globally renowned author Derrick Jensen said, "Thank you, Miranda, for what you are doing. Thank you for who you are that would cause you to act. You are an inspiration to me and to so many others. An inspiration we desperately need."
"The future for me and for these forests hangs in the balance, with ongoing uncertainty about how long it will be before these world class forests are protected. Until then, I will continue my commitment to stay in this tree" said Ms Gibson.
The live-stream will take place Thursday December 13th at 7:00pm in EST. (December 14th - 11:00am Australian Eastern Daylight Savings Time)
High resolution images and vision available of Ms Gibson and the Observer Tree.
Miranda Gibson is available to do interviews via phone or Skype.
observertree2011(at)gmail(dot)comobservertree2011(at)gmail(dot)com .
Comment also available from Units'ot'en Camp.