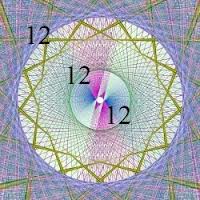 Be among the millions planning to join forces and tune to a similar frequency on the evening of 12.12.12
Asheville, NC (PRWEB) December 12, 2012
What if it was up to you to save the planet. John Lennon captured it in his song, IMAGINE. Now a group of like-minded individuals seeking to tune people across the planet to join in a 30 minute meditation at 9:30 PM EST. The Asheville Jung Center along with innerQuest Psychiatry & Psychotherapy's recent Webinar "The End of the World", a huge success, was an initiation into the Mayan Prophecy and also prepares the way for those wishing to attune on 12.12.12 in preparation for 12.21.12.
The Web is overflowing with various initiatory rites and teachings designed to prepare humanity for great changes and transitions. Some sites like Pleiadian Message 2012 - A Wake Up Call For the Family of Light informs us that humanity is an experiment and we have all been prepared to receive the wisdom from extraterrestrial beings. This Youtube video explains that we will be seeing with the eyes of Horus and we are ushering in a new age. Google images generates a plethora of images intended to unify humanity.
IMAGINE if vast numbers of persons join together on 12.12.12 to share a common intention to bring peace, to share love, to awaken to our higher nature, to transcend differences of belief, culture, and national origin. Be among the millions planning to join forces and tune to a similar frequency on the evening of 12.12.12.
People are looking for clues that can help decipher the meaning and implications of the Mayan prophecies. The impression that the world may come to some cataclysmic end is deeply etched into the human psyche and appears as a recurring motif. The Asheville Jung Center is at the leading edge of exploring the significance of the Mayan Prophecy. "There is an aspect of the primitive part of our brain that fears the abyss; this finds expression in sacred literature and in various myths and rituals of ancient cultures, and the failure to acknowledge this notion of annihilation may result in acting out these themes in aberrant ways." says Dr. Steven Buser, co-founder of the Asheville Jung Center. Dr. Len Cruz, also of the Asheville Jung Center, offered several examples of aberrant patterns evident in current events "…the denial of the evidence concerning environmental degradation, the paralysis in dealing with the impending fiscal crisis in the US and elsewhere, and the psychic numbing as described by the psychiatrist, Robert J. Lifton in association with the threat of nuclear destruction that was initially identified in survivors of Hiroshima."