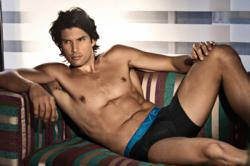 We offer top name brands of fun and sexy clothing lines designed for pleasure and comfort.
Pembroke Pines, FL (PRWEB) December 13, 2012
The holidays just got jollier with the launch of Vmystique, the online adult clothing store at which the products are designed to enhance, entice and excite.
Kicking off its debut, Vmystique is offering special deals plus an additional savings of 10% for customers that use the discount code XMAS10 for items purchased now until December 21.
"This is a fun way to launch a fun website," said Jeff Dunsmore, CTO, Vmystique. "We consider our clothing forbidden holiday fruit in a sense. Any of our styles make for the perfect gift for people that have a sense of adult adventure."
The sensual and spicy clothing lines at Vmystique.com are a collection of fashionable high-end brand names that gained popularity throughout Europe and South America and now are making their welcomed debut in America. Jaw dropping alluring underwear from the Candyman G String Thong to the Zylas Triple Stripe Boxer, are just part of the Vmystique men's collection. For those in a daring mood, the Candyman Devil Thong is something that is certain to catch a partner's attention.
Women in search of a more shapelier derriere, bust line or waist are sure to do well with the Moldeate shape wear featuring Push Up Panties to give the perfect lift, Lipo-Reducer Boxers designed to rid the appearance of cellulite, and Extra Firm Control Waist Cincher for a sleek, thin form.
The website sells nine brands, seven of which are for men. There are more than 600 clothing styles to choose from. While Vmystique is new, to date its biggest sellers are the PPU Thong, Pikante Jock Strap and Candyman Jock Brief.
"All of our products are high quality, many made of microfiber that is soft to the touch and breathable for comfortable extended wear," said Dunsmore. "Our styles are designed to appeal to men and women who enjoy high-end fashion that is fun and sexy with a glint of kinkiness. We expect to add many more clothing brands and styles to our website over the next several months, many of which will make for perfect holiday gifts throughout the year."
Vmystique may be found at http://www.vmystique.com.