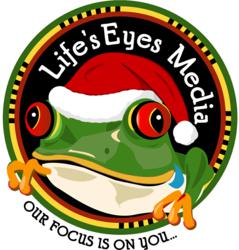 Cincinnati, OH (PRWEB) December 18, 2012
Life's Eyes Media in Ft. Wright, Kentucky is pleased to offer free digital military Christmas Greetings Videos for the families of active duty, deployed military personnel to send to their loved ones. The videos will be shot at the Life's Eyes Media's studio on Friday, December 21st from 1pm – 4pm on a first come, first served basis. The creatives will post them to YouTube and Facebook for the ease of sharing with the active duty military members as a "gift from home."
Life's Eyes Media is located in the Lookout Corporate Center, 1717 Dixie Highway (Suite 150) and is committed to producing the highest quality video products. Life's Eyes Media is also very proud to give back to the Greater Cincinnati community through various charity projects such as this.
Please visit http://www.lifeseyesmedia.com for more information about Life's Eyes Media.
For questions contact: (859) 363-3916
About Life's Eyes Media:
Life's Eyes Media is an award-winning, full-service video production and media coaching company that helps clients bring marketing campaigns and news to life. In their studio or on location, the team of highly experienced and diversified producers, journalists, photojournalists, and writers develops and produces impressive HD videos with cutting edge technologies that create lasting impressions by engaging and exciting the target audience.
Lookout Corporate Center
1717 Dixie Highway, Suite 150
Fort Wright, KY 41011
(859) 363-3916