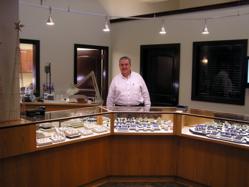 SoLux is true daylight… It makes the jewelry pop. It shows everything very sharp and clear… I've been using them for 10 years. I wouldn't use any other light source.
(PRWEB) December 18, 2012
SoLux bulbs provide the closest simulation of natural daylight on the market. Due to its unmatched color rendering, SoLux is specified by many of the world's most famous museums including the van Gogh Museum, Amsterdam, Musee d'Orsay, Paris, and High Museum of Art, Atlanta, Georgia. Color is also an important attribute for jewelry stores making SoLux an important asset for displaying merchandise for many gemologists across the country.
Burke and Bannayan Jewelers were established in 1985 in downtown Rochester, NY. The business started as a jewelry trade shop offering jewelry repair and custom designs. Recently the business relocated in Greece, NY, and installed SoLux lighting overhead to illuminate the display cases with natural daylight.
In a recent interview Vic Bannayan, owner of Burke and Bannayan, stated, "SoLux is true daylight. SoLux is very comfortable on the eye, it makes the jewelry pop. It shows everything very sharp and clear. I show my diamonds, rubies, pearls, all under the same light, SoLux. We love SoLux. I used SoLux in my previous shop and when I opened this new shop, I made sure to order more SoLux lights. I've been using them for 10 years. I wouldn't use any other light source."
SoLux gives diamonds a true color rendering so D, E and F stones are not given an artificial yellowish tone. SoLux's color rending and brilliance is superior to all metal halide, LED and fluorescent lighting.
Hundreds of jewelry businesses across the USA and Canada use SoLux to bring out the best presentation to their fine jewelry and gemstones. One of the main reasons that SoLux is preferred in the jewelry business is because it gives a true sense of color and does not make a store or a booth look garish or over lighted. This is important in giving the customer a sense of trust in the person they are buying their jewelry from.
Ginger Simonetti, owner of 45 East Fine Jewelers in Rochester, NY, is another respected jeweler that has used SoLux to help build her business and loyal customer base. Hundreds of jewelers across the United States and Canada count on SoLux to display their merchandise accurately, honestly, and brilliantly. A small sampling of SoLux jewelry customers include:; Diamond Traders International, Atlanta; New England Gems, Boston; Arezzo Jewelers, Chicago; Pailet Diamond Co., Dallas; JJ Star Jewelry, Denver; Gasper's Jewelers, Monterey; David S Diamond Inc., New York; Diamond Boutique, San Diego; Raffi's Jewelry, San Francisco; In Canada: Royal Jewelry, Calgary; Goldart Inc., Ottawa; 4C Gems & Jewelry, Toronto; Harlings Jewelers, Vancouver.
SoLux is a patented light source sold by Tailored Lighting Inc., Rochester, New York 14624 SoLux provides an unparalleled replication of natural daylight. Use of SoLux in many of the world's top museums including the van Gogh, Musee d'Orsay, and Guggenheim Museum is testament to its unmatched color quality. SoLux also has eight times the life and twice the efficiency of standard incandescent sources, does not contain the mercury found in fluorescent lights sources, and is a fraction of the cost of LED sources. For more information visit http://www.solux.net or call (800-254-4487)