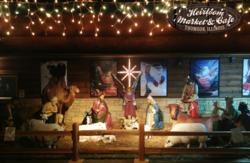 Thomson, IL (PRWEB) December 15, 2012
The Heirloom Market & Cafe made the decision to proudly display their life-size nativity scene just before Thanksgiving. The small village of Thomson, IL has embraced the scene with open arms. According to the Store Manager, James Traver, local folks and general passersby have been stopping to take pictures of this remarkable nativity scene. Many have been stopping and taking pictures with their loved ones standing next to the nativity while others simply stop to take pictures from their cars parked across the road.
This nativity scene is quite a sight for the small community. Bill Heid, owner of The Heirloom Market & Café had this to say about the scene, "We wanted to give this area something special to help remind everyone of the real meaning of Christmas. Today, companies and groups are being forced to second guess displaying their religious figures. We didn't second guess displaying this nativity scene at all. This is our belief and our culture. This is our belief and I am pretty excited to see it displayed."
Heid's comments come on the heels of a renewed controversy over a nativity scene displayed at the oceanfront Palisades Park in Santa Monica, CA, according to NBC Chicago (http://www.nbcchicago.com/news/national-international/Living-Nativity-Scene-Meant-to-Skirt-Santa-Monica-Ban-Palisades-Park-182700911.html) . Last year an atheist group won their claim that forced suburban Santa Monica to close spaces in the city park to private displays. Some Christian groups in the area filed a lawsuit to reverse the actions but the lawsuit was dismissed by a Los Angeles federal judge.
Also this year, in an article by Todd Starnes, a managing editor of FoxNewsRadio.com, Terry Elementary School in Little Rock, Arkansas, sparked controversy over a field trip to take children to a showing of the holiday classic, "A Charlie Brown Christmas." This was a trip the children were looking forward to until it was argued by one parent that the show displayed religious content and was going to be displayed in a church.
In both instances, the basis for the claims was the separation of church and state as well as the challenge of religious freedoms. Which begs the question, how free are religious freedoms?
Because The Heirloom Market & Café is a private company asking permission from the government wasn't even a consideration. "For me the nativity scene is good news for Christians, Muslims, and Athesist alike," says Heid. The local business has been commended by visitors from around the country for their decision to set up their controversial display.