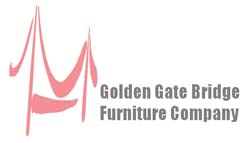 San Francisco, CA (PRWEB) December 17, 2012
For those on your gift list who are hard to shop for, Golden Gate Bridge Furniture Company (GGBFC) currently offers a limited edition Task Lamp crafted from pieces of original, historic Golden Gate Bridge handrail. The Task Lamp utilizes the smaller pieces of steel that are left over from the large sections of historic handrail after crafting larger furniture designs.
The shape of the Task Lamp is inspired by the actual street lamps found on the Golden Gate Bridge. The shade and base of the design is an abstract representation of the original pedestrian handrail itself. The dimmable light fixture uses an eco-friendly 6.3 watt, 410 lumens LED with a 3,000K white color temperature that is equivalent to a 35 watt halogen bulb. The Task Lamp has a limited production run of 390. Once 390 Task Lamps are produced, the design will be retired.
About the company:
Golden Gate Bridge Furniture is the brainchild of San Francisco area resident, Richard Bulan. The company creates limited edition artisan furniture from original steel that was placed on the Golden Gate Bridge during its construction in the 1930's. Richard crafts his designs from sections of pedestrian handrail that were removed during the Bridge's handrail replacement in 1993. He acquired the handrail in 1994 and has since created and put into limited production a headboard design, twelve table designs, and two lamp designs.
To learn more about the company and its designs, GGBFC invites you to visit their website at http://www.ggbfurniture.com, their Facebook page at http://www.facebook.com/ggbfurniture, or their blog at http://www.TheChrysopylae.com. Richard Bulan can be contacted directly by phone at 415-661-6263 or by email at richard(at)ggbfurniture(dot)com.