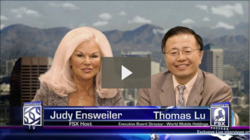 We have been successful in Taiwan and China. Now we want to bring this technology back to the US.
(PRWEB) December 13, 2012
FSX held their 117th Quarterly Conference from October 25-27 in Phoenix, Arizona. The companies that presented at this Investment Conference had the opportunity to be interviewed by an FSX Host.
Dr. Thomas Lu, Executive Board Director of World Mobile Holdings gave FSX's Judy Ensweiler an exclusive on opening in the US Market with their green battery. Dr. Lu, Research Scientist from NASA JPL said he recently got onboard World Mobile Holdings to open the US Market. Their environmentally friendly, multipurpose technology aims to replace the lead acid battery, commonly used for UPS, energy storage, car batteries, etc. "We have been successful in Taiwan and China. Now we want to bring this technology back to the US." stated Dr. Lu.
The complete World Mobile Holdings interview, as well as all the presenting companies interviewed at the FSX Investment Conference, is available only on FSX Interlinked's Web Channel, an on demand Video Channel that offers a glimpse into their private network of Partners and Companies.
About World Mobile Holdings Inc. & InterlinkedTV
World Mobile Holdings, Inc. provides effective processed system, and customized systems integration, such as, integration of Surveillance Systems & Multimedia Signage, integration of Lithium-Iron Battery (LiFePO4) Modules, and systems for nursing & medical centers. Cooperating with the world's leading wireless operators, World Mobile's B to B business model has valuable assets to assist the major wireless operators around the world in fulfilling their needs of 3.5G and 4G / 5G wireless information services in order to satisfy their customers.
InterlinkedTV is an internet video production and distribution site dedicated to private enterprise, venture capital news, and investment events. We are bringing you this exclusive content through our partnerships with conferences, investment events, companies and IR firms. Visit http://www.interlinkedTV.com for more information.