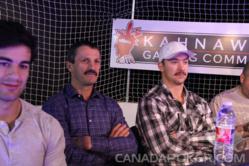 We're pleased Max, Travis and Josh have chosen Playground as the place they'll learn their way around a poker table
Montreal, Quebec (PRWEB) December 13, 2012
On the heels of the recent addition of poker pros Brian Rast, Gavin Smith and Jeff Gross, Playground Poker Club, home of the WPT's only Canadian stop and the biggest poker tournament in Canadian history, has announced the latest additions to their Player's Club.
Montreal Canadiens stars Max Pacioretty, Josh Gorges and Travis Moen have all joined a list that includes poker players like Antonio Esfandiari and Phil Laak along with other NHL alumni, including Guy Carbonneau and Bobby Dollas.
Gorges and Moen first came to Playground for the NLH Faceoff event in September 2011, along with NHL legends Guy Lafleur, Mike Bossy and others. After the success of that event, a mutual interest bloomed, based on the players interest in learning the ins and outs of poker, and the admiration Playground has for the players themselves.
Playground has run tournaments with hockey themes dating back to the inaugural NLH Faceoff. More hockey-themed tournaments are in the cards at Playground, including the upcoming NLH Faceoff 2, expected to be a marquee event and part of the "hat-trick series" during the highly-anticipated upcoming "Playground Winter Classic".
"Playground isn't just a destination for seasoned card players, it's a great place for players of all levels to play. We're pleased Max, Travis and Josh have chosen Playground as the place they'll learn their way around a poker table," said Playground COO David Montour.
Montreal's all-star netminder Carey Price was a team captain during the first NLH Faceoff event and he's expected to join his teammates once again for part 2 of the event. Price has been a frequent guest on the Playground Poker radio show, heard Wednesday nights on TSN 690.
Pacioretty first visited Playground during the Final Table of the WPT Montreal in November 2012, along with Michael Phelps and other VIP guests. He is considered one of the top young players in the NHL today. Since being drafted in the first round in 2007, he has seen his stock rise steadily, until leading the Canadiens in scoring for 2011-2012 season and winning the NHL's Bill Masterson trophy in the process.
Josh Gorges has been patrolling the Montreal blue line since coming over in a trade from San Jose in 2007. One of the top shutdown defenders in the NHL, Gorges has been a steady force on a Montreal blue line that has had few constants in the last few years.
Travis Moen is one of the most popular players at the Bell Centre because of the intensity and grit he brings on every shift. He was a huge part of a Stanley Cup championship team with Anaheim in 2007 and even scored the Stanley Cup-winning goal.
"We're always happy to welcome new members to the Playground Player's Club but to welcome three current members of the Montreal Canadiens is a sign of the tremendous strides we've made since opening two years ago," Montour concluded.
The Playground Player's Club is a collection of talent from the worlds of poker and sports featuring people who play their poker at Playground and proudly represent the club. The full list of Player's Club members is available here.
Playground Poker Club is Canada's premier poker destination. Located just minutes from downtown Montreal on highway 138, the club was recently expanded and is now the biggest club of its kind in Canada. Visit http://www.playgroundpoker.ca or email info(at)playgroundpoker(dot)ca for more details. You can follow Playground on Twitter and "like" their facebook page.