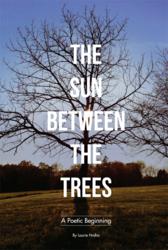 Lynchburg, Va (PRWEB) December 12, 2012
Laurie Hraha's poetry book, "The Sun Between the Trees," was recently released by Liberty University Press. The book offers a glimpse into Hraha's faith journey and the difficulty of sharing that faith with others.
Liberty University Press publishes all genres of Christian literature, but "The Sun Between the Trees" is the first print poetry book released by the company. Hraha's poems explore her deepest thoughts and feelings about her life as a Christian woman. The collection emphasizes God's promise to those who believe in Him and seek His mercy and love.
Hraha said that there was a time in her life when she was not willing to acknowledge God or His ways. She equates her past trials to the parable of the prodigal son from Luke chapter 15.
"I was a prodigal daughter who had squandered my life in reckless living," Hraha said. "Although I grew up in a Christian home, I went out into the world and left God's Word behind. Just as the prodigal son began longing to be fed, I too, longed to be fed; and just as the prodigal son humbly returned to his father's table asking forgiveness, I humbly returned to our Father in Heaven asking His forgiveness."
"The Sun Between the Trees" is available in paperback on Amazon.com and BarnesandNoble.com.
About the Author
Laurie Hraha lives in Northern Virginia with her husband, and is currently studying religion at Liberty University Online. She has always enjoyed English literature, and some of her favorite poems include "It Sifts from Leaden Sieves" by Emily Dickenson and "Dulce et Decorum Est" by Wilfred Owen.
About Liberty University
Liberty University, located in Lynchburg, Va., is the world's largest Christian university. Nearly 100,000 students attend classes on its 6,800-acre residential campus and study in its thriving online education program.