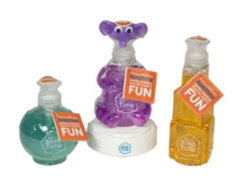 Four-piece kit including a SmartBase, ABC, Earth and Elephant bottle is $16.97 each. Visit mysoaptime.com.
Austin, TX (PRWEB) December 13, 2012
Taking place the first full week of December each year, National Hand Washing Awareness Week has been instituted to reduce the transmission of diseases. Research by the U.S. Center for Disease Control and Prevention (CDC) indicates that washing hands is one of the best ways to prevent illness and the spreading of germs, especially for children whose immune systems are weaker than adults.
With the flu season starting early this year, individuals around the country are being asked to help protect their communities by increasing awareness and understanding of the importance of hand washing. SoapTime®, an action-packed hand soap dispenser and SmartBase™, helps contribute to this goal by providing families with a unique hand washing system designed to attract kids to the sink and keep them washing for 20 seconds, the proper time to ensure clean hands according to the CDC and the American Medical Association.
Childcare Network, one of the largest childcare providers in the U.S. with more than 170 centers caring for more than 19,000 children every day, ordered SoapTime just in time for National Hand Washing Awareness Week. It was also a featured giveaway in the organization's newsletter.
"SoapTime products are ideal any time of year for households with children, especially those between the ages of 2 and 7," said Tom Blake, CEO of SoapTime. "But during National Hand Washing Awareness Week, in particular, they should be top of mind given the critical role that hand hygiene plays in preventing the spread of pathogens. We are very pleased that Childcare Network has chosen to use SoapTime to help encourage their kids to wash more frequently and effectively."
With SoapTime it's easier to move children to the sink because keeping hands clean is now an enjoyable experience. SoapTime's hand washing system consists of three uniquely shaped bottles: ABC, Earth and Elephant set in a SmartBase®. Each bottle is recognized by the SmartBase and has a distinct educational theme narrated by Professor Goodhabits that includes unique songs, factoids and LED light shows.
To use, a child simply pushes the dispenser and for 20 seconds they wash their hands while learning and being entertained. By frequently washing their hands, children wash away harmful germs, which help to prevent the spread of contagious diseases.
SoapTime products are sold online at http://mysoaptime.com as well as at target.com and other retailers.
Four piece kit including a SmartBase, ABC, Earth and Elephant bottle is $16.97 each.
Follow SoapTime on Twitter @mysoaptime and on Pinterest at http://pinterest.com/soaptime/ and become a fan on Facebook at http://facebook.com/mysoaptime.