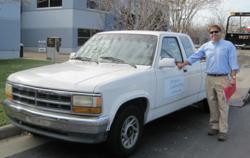 Hampton, VA (PRWEB) December 29, 2012
The first vehicle in the Orlando's Landscaping fleet is now headed to a new home. After 20 years of trusty landscaping service the Dodge Dakota ends its service to the company where it began--at Tysinger Motor Company, in Hampton, Virginia. Stephen Orlando was on site to see the Dakota on its way. The truck is being donated to the Vietnam Veterans of America car donation program, where it will be sold to fund issues of veterans' service and advocacy.
The opportunity to participate in the https://helpourveterans.org program came at Veterans' Day and the arrangements were made quickly. Tysinger Motor Company got the landscaping staff into a replacement service vehicle and continues to keep the fleet in peak performance. Regular maintenance enabled the Dakota to be an uber reliable vehicle for hauling mowers, mulch, and plant material. It takes a tough truck to stand up to the daily demands of a landscaping crew. It was so reliable, in fact, that Orlando's Landscaping chose to replace it with a newer model of the same. With some minor repairs, the old truck might still be on the road ten years from now.
Stephen began his landscaping career in horticulture at Christopher Newport College and has developed deep roots in the Hampton Roads community and encourages his team members to participate in endeavors that support the communities they live in. He also supports widespread efforts to reduce landfill waste and recycle and reuse items whenever possible. It's no surprise that he would look for a way for the truck to continue its useful life while supporting a worthwhile cause.
The Vietnam Veterans of America was founded in 1978 and is the only Vietnam veterans organization congressionally chartered and exclusively dedicated to Vietnam-era veterans and their families. With more than 65,000 individual members and 650 local charters, this organization aggressively advocates on issues important to veterans. They also have programs to support the next generation of America's veterans.
For others interested in the car donation program, it's easy. Vistit the website or call 1-800-help-vets and the donation will be set up with a few pieces of information from your car's title. A local towing company will make the pick-up within 24-48 hours.
The hand-off was just that easy.
Hampton Roads is a military community and Orlando's Landscaping aims to support the efforts of veterans.