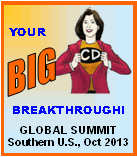 By anticipating trends and introducing them at our conferences we position resume writers and career coaches as industry leaders with an edge that puts them 2-3 years ahead of their competition.
Melbourne, Florida (PRWEB) December 13, 2012
The global association of resume writers and career coaches, Career Directors International (CDI), has hit on a methodology for developing the educational opportunities that industry practitioners are craving with their annual Global Career Empowerment Summit.
CDI's President, Laura DeCarlo, stated, "We meet and exceed our members' needs with our annual Summit through intensive forecasting and research of the employment and job search market. By anticipating the trends and introducing them at our conferences we position resume writers and career coaches as industry leaders with an edge that puts them 2-3 years ahead of their competition."
Offered annually each October and now entering its 12th year, the 2013 Global Career Empowerment Summit is all about balance with three core competency areas:
>> NEW TRENDS & POWER STRATEGIES IN RESUME WRITING & DOCUMENT DEVELOPMENT:
Twitteresume: Bringing Resumes to Life in the Age of Social Media – Jennifer Hay, IT Resume Service (2012 Career Innovator Award Winner for Twitteresume)
The Armageddon Resume: Break All the Rules – Donald Burns, Donald Burns' Career Defense (Multiple First Place TORI Awards and a Whole New Kind of Resume in this session)
Reaching the Top: Keys to Creating an Award-Winning Resume – Laura DeCarlo, CDI (TORI Winner, First TORI Awards' Director, and TORI Mentor of Winning Resume Writers)
Don't Step on that Landmine! Navigate the ATS Resume Writing Landscape with Ease – Robin Schlinger, Robin's Resumes®
>> KEYS TO CAPITALIZING ON CARER SERVICES & COACHING TO EXPAND VALUE:
5 Ways to Expand Your Business Revenue with Social Media Marketing Campaigns for Job Seekers – Cheryl Simpson, Executive Resume Rescue
Surviving in Uncertainty, The Future of Career Management & How We Help - Martin Yate, author of the acclaimed Knock 'em Dead series
Brain-based Coaching Solutions for Job Search Success - Susan Whitcomb, The Academies, Inc.
Tell Me About A Time: helping your clients effectively communicate their behavioral competencies in resumes and interviews - Fred Coon, Stewart Cooper & Coon, Inc.
>> MAXIMUM BUSINESS-BUILDING BOOSTERS FOR CAREER ENTREPRENEURS:
Structured Networking Session - TBA
Multi-Six-Figure Business Building Tips to Rocket Your Revenue - Laura Smith-Proulx, An Expert Resume
More Confidence. More Clients. More Cash. - Kim Avery, MA, a Licensed Get Clients Now® Facilitator
How to Deal With Difficult Clients Quickly, Efficiently, and With Positive Results - Audrey Prenzel, Resume Resources.
CDI also recognizes that while the session topics must be ahead of the curve, that content should be at the master-level, and that speakers should be the top in their area, the hands-on learning experience and networking are pivotal to taking home a true return on investment from the Summit. To that end, CDI is introducing even more networking to their lineup in 2013:
NEW:
Lead-In Structured Networking Session on Thursday (opening day)
Power Q&A Sessions to end Friday and Saturday Line-Ups
New Attendee Summit Buddy Matching
Sign-Up Lists for exercise and dinner buddies
Private Online Discussion Group for Registrants for networking
ONGOING/REPEAT:
Thursday Vendor Fair and Networking Session
Thursday Evening Reception
Four 30-minute Breaks on Friday and Saturday
90-minute Lunch-N-Learn on Friday
Friday Evening Optional Event
Saturday Evening Optional Dine-Around Networking and Decompression.
Plus, the Summit program is designed to be deep and engaging to imprint itself on the learner:
Hands-on exercises and activities in every session to cement the learning.
Tools to ensure amazing takeaways and action items from every session.
Twelve program sessions across three days + the ever-popular Lunch-N-Learn with the presenters.
CDI hosts a YouTube channel where a broad selection of Summit presenter tips and attendee testimonial videos can be found from the 2009-2012 Summits.
About CDI: Career Directors International – http://www.careerdirectors.com
CDI is a global professional association that is committed to ensuring that career and resume professionals can grow and thrive in a rich, vibrant, exciting, safe, and nurturing environment. CDI is focused on championing the industry's cause for credibility and visibility; fostering exceptional success in every generation of career and resume professionals; and cultivating the career superhero that exists within each one of us.