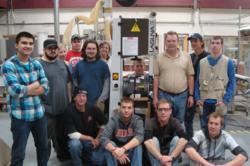 Irvine, California (PRWEB) December 19, 2012
As part of its ongoing initiative to support top woodworking technical colleges throughout the country, Laguna Tools – a leading manufacturer and distributor of woodworking equipment – is providing a new LT-16" HD Band Saw to the Cabinetmaking and Millwork Program at Madison Area Technical College in Wisconsin.
"We believe it's vital that students with a passion for woodworking have the chance to work with the very best equipment on the market," said Catherine Helshoj, Vice President at Laguna Tools. "This technical college, which is an active member of WoodLINKS USA and Certified Woodwork Career Alliance (WCA) Evaluation Center, operates one of the finest woodworking training programs in the country. Schools of this caliber are the future of our industry, and we're proud to help support their efforts in any way we can."
Under the direction of Patrick Molzahn, who was named WMIA (Woodworking Machinery Industry Association) Educator of the Year in 2008, the state-funded technical college has a well-deserved reputation for preparing its students for good jobs in the woodworking industry.
After working as an architect for two years, Molzahn traveled the world studying various woodworking disciplines and teaching techniques.
"I realized that if you could shape and build a boat using centuries-old methods – you could build just about anything," he said. "I also examined the way European master craftsmen passed down their skills and traditions through the apprenticeship system. When I joined Madison Area Technical College, I brought many of these ideas with me.
"Basically, we've condensed a four-year cabinetmaking and millwork apprenticeship into one year," said Molzahn. "In today's fast-paced, ever-changing world, lengthy apprenticeships are difficult to obtain funding for, so we've streamlined them."
The program trains approximately 16 students per year in a variety of woodworking disciplines, starting from the beginning – measuring and layout – all the way through CNC technology," he said. "When a student graduates from the program, they have the skills needed to hit the ground running in the woodworking industry in a number of capacities." The program also operates evening classes 3 nights per week, allowing close to 100 additional students annually to experience their state-of-the-art facility.
Molzahn, who has directed the program since 2000, says the most rewarding part of his job is hearing from graduates who are thriving in the woodworking field.
"We have one graduate who is working as a cabinet-maker in Antarctica, and the success stories from our program go on and on," he said. "Most of our students wind up doing something related to woodworking, including becoming designers, project managers and supervisors. There are so many good opportunities if a person has diverse skills, which is what this program is all about."
According to Molzahn, the average age of students in the Cabinetmaking and Millwork program is about 27. "However, we had one student who was 62 and was offered a job while attending the IWF Show last year. He told me he had spent the past 35 years as a farmer, and that he planned to spend the next 35 as a woodworker."
An indicator of the program's success is the fact that there has been a waiting list to get in for 12 straight years. "Our students are highly motivated and passionate about using their hands to create something out of nothing. We teach them by example, and by working as teams to produce the types of finished products they would be asked to make in woodworking shops throughout the country. Many of these items, from cabinets to furniture, are sold to the public to help fund various activities for the students."
"We are also fortunate to host students from abroad, having had students from Spain, Finland and Germany in the past 5 years."
Molzahn said part of the program's success comes from offering its students the very latest woodworking equipment on the market in which to learn the trade. "The Laguna Tools Band Saw, for example, is highly accurate, while offering ease of adjustability. We're thrilled that Laguna Tools is making such a contribution to the school, since it's replacing one of our older pieces of equipment."
Local builders, as well as the local chapter of the AWI in Wisconsin, also support the program with about fifty percent of the students receiving monetary scholarships.
"Because of the success of the program, and support from the community and industry leaders like Laguna Tools, we're going to be implementing a revolutionary new self-directed curriculum in the very near future," he said. "This concept will allow any student, of any skill level, to enter the program literally at any time. When that student has passed the tests in the program, they will instantly become eligible to receive their woodworking technical diploma. There's much more to the program, of course, but we're very excited about the chance to really change the way we go about training individuals for our industry."
Laguna Tools, based in Irvine, California, has been leading the industry in woodworking innovations for more than 28 years and continues to challenge the industry with new advancements and innovations. Laguna Tools builds and markets a wide range of woodworking tools, from small tools to CNC. At Laguna Tools, we aspire to be "globally local" by investing our time, support, products and services into many community outreach programs. For more information on the Laguna Tools quality line of performance products, please call 1-800-234-1976 or go to http://www.lagunatools.com.
# # #