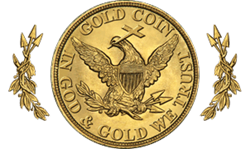 Gold has prevailed throughout the rise and fall of every currency in history
New York, NY (PRWEB) December 13, 2012
November is historically a powerful month for gold, and things were no different last month. According to CNN, November 2012 sales of American Eagle gold coins reached 136,000 ounces, up 130% from October's sale of 59,000 ounces. This higher demand has boosted gold's price, increasing 8% this year and over 500% in the past decade. North America's gold coin advisor, Gold Coin projects that gold coin prices will continue to increase in 2013 as investors flock to gold for its unique profit and wealth preservation potential during turbulent economic times.
Arthur McGuire, Vice President of Gold Coin says "Investors are flocking to gold right now because it's the only real protection from the dangers of the upcoming fiscal cliff. To make matters worse, the Federal Reserve is likely to continue stimulus measures by overprinting billions of dollars every month, slowly degrading the value and purchasing power of our hard-earned dollars. Fortunately, gold has prevailed throughout the rise and fall of every currency in history. We expect this trend to continue, which is why our gold analysts project at least $2,100 per ounce of gold in 2013."
Gold-Coin.com is North America's gold coin advisor; they offer experienced and first time investors a free copy of Real Money Magazine. To get your free copy of this publication visit http://www.Gold-Coin.com or call 1-800-776-7253.