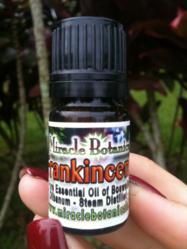 Throughout History,
Frankincense Has Been Used
to Treat Every Disease
and Sickness
Known to Man.
Pahoa, HI (PRWEB) December 12, 2012
Miracle Botanicals, the leader in Reiki Charged Pure Essential Oils, is now offering Pure Frankincense Essential Oil – one of the most Esteem Enhancing and Spiritual Essential Oils for Only $14.97.
Throughout the world, Frankincense has been used for many religious and yogic practices. Widely known, Frankincense was one of the gifts given to baby Jesus by the three wise men.
Throughout history, frankincense has been used to treat every disease and sickness known to man. Since it was so healing to many people, frankincense oils and resins were considered to be worth more than gold.
For over 5,000 years, frankincense was burned in many religious temples throughout China, India, and Egypt. The Catholic and Jewish churches still burn frankincense incense during mass and ceremonies, as it is thought that the smoke of frankincense carries prayers to heaven.
In India, frankincense has been used to deepen the breath and still the mind, allowing for ease in meditation. The Egyptians would use frankincense as an offering to their gods and to purify the sick by banishing "evil spirits." Egyptians also used frankincense as a main ingredient in a rejuvenating facemask, which was mostly given to the royal family.
Today, frankincense is widely used in aromatherapy, as it has many healing properties and has the most astounding effect on the nervous system.
General Information:

Botanical Name: Boswellia Neglecta
Botanical Family: Burseraceae
Derived From: Resin from the Frankincense Tree
Origin: Kenya
Method of Extraction: Steam Distilled from the Resin
Aroma: Woodsy, Warm, Spicy, Citrus-hint
Physical Description: Yellow liquid with thin consistency
Blends with: Bergamot, Camphor, Cedarwood, Chamomile, Cinnamon, Clary Sage, Geranium, Ginger, Lavender, Mandarin, Myrrh, Neroli, Orange, Pine, Rose, Rosemary, Sandalwood, and Vetiver.
Reiki Charged: Our Frankincense essential oil is charged with intent to uplift spirits, increase meditation, and strengthen the nervous system.
Indications:

Emotions: Frankincense essential oil contains sesquiterpenes, a class of terpenes naturally found in plants and insects as pheromones. Sesquiterpenes in the oil contribute heavily to balancing emotions and hormones and increasing oxygen around the pineal and pituitary gland, allowing these emotion-regulating glands to function properly. Sesquiterpenes also have the ability to go beyond the blood brain barrier, inducing increased oxygen to the brain, causing more balanced hormones. When the hormones in the body are more balanced, uplifted emotions are encouraged.
Skincare: Frankincense essential oil is extremely rejuvenating for the skin, as the sesquiterpenes in the oil also contribute to skin healing properties including: anti-septic, anti-inflammatory, and soothing inflamed tissue. Frankincense also balances oily and dry skin and improves the skin's tone and texture. Frankincense reduces appearance of scars, stretch marks, and age spots, due to stimulation of skin cell growth.
Physical: Frankincense may be used for abrasions, inflammation, cleaning agent, cirrhosis of the liver, colds, coughs, diarrhea, influenza, arthritis, sedative, and healing wounds. The oil can also be used on the respiratory tract, as it clears the lungs and helps to deepen the breathe, clear asthma, bronchitis, and laryngitis. Many women have used the oil to ease heavy periods and to aid the uterus, by calming one during labor.
Spiritual: Frankincense has been used for many spiritual benefits including: blessings, courage, meditation, protection, purification, spirituality, and balancing of the solar plexus chakra. Frankincense assists with awakening insight, by heightening awareness of spiritual realms not known in the physical.
Miracle Botanicals is the leading provider of Reiki charged pure essential oils that help people align with their Divine identity and return to their natural state of optimal health, abundance and well being. For more information, please visit http://www.miraclebotanicals.com.
The founder of Miracle Botanicals, Rev. Hope Johnson is devoted to being a clear channel for Divine inspiration and instruction. She is passionate about being a facilitator to expanding Consciousness here on the earth plane through her work and play. Her recorded spiritual insights can be found here: http://www.thewaytotheway.com