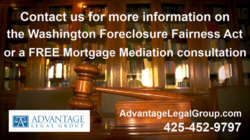 I am seeing great results from this program and hope that more homeowners will avail themselves of this mortgage mediation program.
Bellevue, WA. (PRWEB) December 19, 2012
Advantage Legal Group is Offering three Foreclosure Defense Seminars in January 2013 to teach Washington State homeowners facing foreclosure about the options available including mortgage mediation under the Washington State Foreclosure Fairness Act, mortgage modification, real estate short sales and bankruptcy.
The Washington Foreclosure Fairness Act (FFA) provides Washington State homeowners facing foreclosure a little known right to force their bank to the mediation table. Washington State was the third state to implement such a foreclosure mediation program after Nevada and Maryland. While the law has been in effect since July 22, 2012, it is estimated that less that 10% of those eligible have availed themselves of the program to date.
The so called "Foreclosure Fairness Act," gives distressed homeowners working with an attorney or housing counselor, the right to an in-person mediation process to avoid foreclosure of their primary residence. Homeowners cannot request mediation themselves and must request it through an attorney or housing counselor. Many smaller banks and credit unions are exempt if they had less than 250 foreclosures in the state in the previous year.
Washington State attorney, Jonathan Smith, with the law firm of Advantage Legal Group says "this can be highly effective means for most homeowners facing foreclosure to mediate a modification of their loan and avoid foreclosure." For those eligible, the Foreclosure Fairness Act (FFA) provides framework through which mortgages can be re-negotiated.
The process is overseen by the Washington State Department of Commerce. Once mediation is requested by an attorney or housing counselor, the Department of Commerce assigns a mediator. The law then requires the parties to exchange financial information and requires the banks to provide proof of ownership of the loan as well as an accounting of all fees and charges. If the homeowner was previously declined for a modification, they are required to state why and provide any appraisals or other information relied upon. The Act also requires the bank to appear at the face to face mediation with their attorneys and a person from the bank present with the authority to sign off on a loan modification on the spot.
Jonathan Smith, whose firm serves most of Western Washington, notes that a great number of his clients are obtaining modified loans through this process and many have seen dramatic reductions in their monthly loan payments. Smith says "Of course it dependent on the client's situation, but we are often able to bring a client's loan, that is months or even years behind, current and lengthen their loan period out to 40 years in a fully amortized loan." Mr. Smith regularly attains these results for his clients. "It is not unusual for my clients' loans to be recast at rates as low as 2% interest rate" says Jonathan Smith.
Carmen Arruda, Regional Account Manager, with Fidelity National Title, says "I am seeing great results from this program and hope that more homeowners will avail themselves of this mortgage mediation program. It is heartbreaking to see so many people foreclosed upon every month who do not even know about this fabulous program offered to Washington State homeowner's. I do not understand why the state or the media don't promote the Foreclosure Fairness Act or mortgage mediation more."
As a bankruptcy attorney in Bellevue, Seattle and Western Washington, Jonathan Smith's law firm also uses federal bankruptcy law to eliminate unsecured debt, and if the value of the home is less than what is owed on the first mortgage, to strip off second or third mortgages and discharge them in bankruptcy. "The mediation process can also be used to negotiate short sales as well." Says attorney Jonathan Smith. "Our firm has negotiated hundreds of short sales", says Mr. Smith "and we often combine these methods, renegotiate the first mortgage through mortgage mediation and strip off second mortgages all together through a chapter 13 reorganization bankruptcy to achieve great results for our clients."
Advantage Legal Group is a debt relief agency providing foreclosure defense services in Washington State including mortgage mediation, mortgage modification, short sales and bankruptcy.
Advantage Legal Group provides free foreclosure defense seminars in Western Washington. The following is the schedule of upcoming foreclosure defense seminars for January 2013.

Bellevue: Saturday Jan. 12th from 10:00 AM to Noon - Coast Bellevue Hotel - 625 116th Ave NE, Bellevue,WA. 98004
Lynnwood: Monday Jan. 14th from 7:00 PM to 9:00 PM - Lynnwood Convention Center 3711 196th St. SW Lynnwood, WA. 98036
Tacoma: Wednesday Jan 16th from 7:00 PM to 9:00 PM - Greater Tacoma Convention and Trade Center - 1500 Broadway, Tacoma, WA. 98402
Space is limited so confirm your spot by submitting the registration form on the Advantage Legal Group Website.