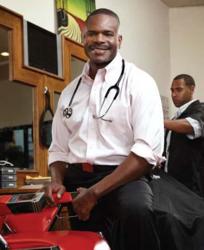 People suffering from diabetic neuropathy have very few options other than medications that have significant side effects.
Beverly, CA (PRWEB) December 14, 2012
Dr. Bill Releford and The Releford Foot and Ankle Institute are proud to announce the opening of the Diabetic Neuropathy Treatment Center at 455 North Prairie Avenue in Inglewood, CA. The center will offer a groundbreaking treatment developed by Dr. Releford to eliminate the pain associated with diabetic neuropathy, a common, chronic, and often debilitating complication of the disease.
"The launch of the Diabetic Neuropathy Treatment Center is the logical next-step to expand our mission, which is to decrease the diabetes-related amputation rate in Los Angeles," says Dr. Releford, director of The Releford Foot and Ankle Institute. "In addition to treating and reducing the incidence of the disease, with the Diabetic Neuropathy Treatment Center, we can now eliminate some of its most painful symptoms." Dr. Releford's proprietary protocol uses injections of platelet-rich plasma (PRP), a non-surgical therapy using a concentrated amount of a patient's blood to supercharge the healing process.
Over time, more than half of patients with diabetes develop nerve damage known as diabetic neuropathy. Though some never have symptoms, many experience numbness, tingling, burning, and stabbing pains in their extremities that typically intensify at night. The Diabetic Neuropathy Treatment Center can eliminate or significantly reduce these symptoms once and for all.
About Platelet-Rich Plasma Therapy
PRP therapy is an innovative, non-surgical approach that uses healing components derived from a small, concentrated amount of a patient's own blood. Injected into damaged tissue, PRP therapy has the potential to "supercharge" the healing process. Dr. Releford has successfully developed a method to use PRP to treat diabetic neuropathy, and also uses the injections in orthopedics and sports medicine to treat joint and tendon pain, ankle sprains, heel pain, non-healing wounds, plantar fasciitis, poor circulation, and many other conditions, as cited in the Journal of Orthopaedic Research (Jan. 2006). Recently, PRP therapy has made headlines due to its successful use by professional athletes like Tiger Woods, Kobe Bryant, Alex Rodriguez, and Rafael Nadal.
About Dr. Bill J. Releford, D.P.M.
Dr. Bill J. Releford, D.P.M., a podiatric surgeon based in Los Angeles, specializes in diabetic limb preservation and wound care to help reduce the extraordinarily high number of diabetes‐related amputations experienced by African Americans. A graduate of the Temple School of Podiatric Medicine in Philadelphia, Dr. Releford began his practice in 1990 and shortly thereafter established the Diabetic Foot Institute. He is an associate professor at Charles Drew University of Medicine and Science and lectures worldwide about the latest techniques in limb salvage and community-based outreach. Dr. Releford is recognized both domestically and internationally as a leader in diabetes treatment and public health. He has won awards for his contributions to public health; founded successful community outreach and healthcare advocacy programs; authored Five Colors A Day To Better Health, a book that provides a clear understanding of how diet can reduce the risks of diabetes, high blood pressure, and other chronic diseases; and developed proprietary protocols to treat diabetes and diabetic neuropathy – a common, chronic, and often debilitating complication of the disease.
Most recently, Dr. Releford's efforts have been recognized in the Los Angeles Times, The Washington Post, and Newsweek, as well as on popular television shows like The View, The Doctors, NBC Nightly News with Brian Williams, Dr. Drew, the Today show and many others.
About The Releford Foot and Ankle Institute
The Releford Foot & Ankle Institute's mission is to effectively decrease the diabetes-related amputation rate in Los Angeles and surrounding communities by providing comprehensive wound care and limb salvage services.
Dr. Releford's community outreach and health-care advocacy efforts are facilitated through the Diabetic Amputation Prevention Foundation (DAP), a non-profit organization he founded in 2001. Its mission is to educate at-risk populations to better understand diabetes and its complications through community-based programs.
Dr. Releford and the DAP Foundation have been recognized for the success of the Black Barbershop Health Outreach Program. Since its inception in December 2007, the program has screened over 30,000 men for diabetes and hypertension in more than 50 black-owned barbershops in over 26 cities.
For a free consultation and insurance verification, contact the Center at 310-412-0183.