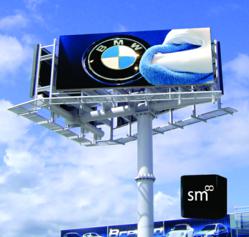 "It turned out that we lost power and [the billboard] was unable to "check in" with SM Command Center. The billboard told them it was down!" Alfredo, Exterior Media
Corona, CA (PRWEB) December 17, 2012
Spectacular Media recently released their revolutionary new digital advertising cloudware, SM Infinity™, which was perfect timing for Exterior Media of Puerto Rico. SM Infinity™ gives clients access to professionally designed content and marketing tailored for their business via the cloud while giving them time to focus on business. Other core features include control access from various internet connected platforms (PC, Mac, and Android), compatibility on various manufacturers' displays, and automated diagnostic display "check in" for proactive tech support.
A cloud based service like SM Infinity™ has been in demand from the LED Industry for years and Exterior Media, a billboard company in Puerto Rico, jumped onboard without hesitation.
"We run our network of billboards on the SM Infinity™ platform. With the power of the cloud, we can update instantly from any location, which is vital in this market. Plus, with our platinum service, our displays "check in" regularly with diagnostic updates through SM's Command Center." stated Alfredo, Exterior Media.
Exterior Media is also able to take advantage of the content creation services. The SM team creates professional ad content per Exterior Media's simple online graphic request. The graphic is completed within 24 hours for immediate inclusion in their billboard lineup or it can wait in the queue for Exterior Media to review.
One of SM Infinity's core features is Command Center; an automated diagnostic service that provides a proactive approach to technical support. Once on the SM Infinity™ Platform, a client's digital display "checks in" to the Command Center every five minutes with a diagnostic report. It can report failures like power loss, communication loss, or controller failure.
"The SM Team called us up one afternoon and asked us if our billboard was down...It turned out that we lost power and it was unable to "check in" with SM Command Center. The billboard told them it was down!" reported Alfredo, "We called out our electrician and fixed it immediately. That's the proactive service we like which is hard to find anywhere."
SM Infinity™ clients now have the ability to relax and focus on their business which is how it should be according to Spectacular Media.
"An LED Display is an excellent investment when marketing a business, but we know that many display owners can be overwhelmed and frustrated with creating content and schedule. We want to make it exciting again and powerful; really maximize the potential of the display. We do this by giving them a powerful cloud based platform to express themselves through a marketing profile. This gives us the fuel to create powerful content & marketing strategies for them." Paul, Spectacular Media.
-
Spectacular Media (the 5th Element of Digital Advertising) is a software savvy, social advertising company with a goal to create a perfect synergy between these 4 elements: the Establishment and their Patrons; their Advertising and their Digital Display.
With the premier release of SM Infinity™, cloudware for comprehensive digital advertising, they aim to meet the advertising demands of the LED digital display market (and more) creating a better relationship between the establishment and patron.