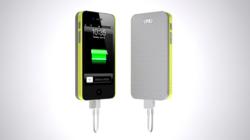 "At CES we're showing a broad range of environmentally conscious products," said Sen Cai, CEO of uNu. "The Ecopak for iPhone 5 is the first protective case and detachable battery set that is entirely recyclable."
Union City, CA (PRWEB) December 13, 2012
uNu Electronics Inc., a global provider and distributor of portable power accessories for mobile devices, today announced it will be exhibiting several of its new innovative products at the Consumer Electronics Show 2013, including the first recyclable battery pack for iPhone 5.
uNu will be at the CES Unveiled event at Mandalay Bay from 4-7 p.m., level three, South Seas Ballroom C, on Sunday, January 6, 2013.
uNu will be exhibiting at CES 2013 in North Hall, Booth #6021 during the event on January 8-11, 2013.
uNu Products To Be Shown At CES:

Ecopak Battery System for iPhone 5
Introducing the newest generation of eco-friendly power for the iPhone 5, the uNu Ecopak Snap-On Protective Case & Detachable Extended Battery is the essence of "green" engineering and efficient power design. Available in a variety of stylish colors, it is offered with a companion program which allows customers to recycle their old battery packs for a generous discount. The Ecopak is the perfect iPhone 5 device for environmentally-conscious customers.
DX Protective Battery Case For iPhone5
Trim down with the DX Protective Battery Case for iPhone 5.This ultra-slim, anti-slip case is super durable, plus this DX doubles the battery life of the iPhone 5 with its efficient integrated battery. The DX offers protection and power, in one sleek package.
Enerpak Portable Battery Packs
The Enerpak Series is a combination of three exciting Universal Battery Packs with different battery capacity, which can be used to charge all USB devices including the iPhone 5 and iPad Mini.
"At CES we're showing a broad range of environmentally conscious products," said Sen Cai, CEO of uNu. "The Ecopak for iPhone 5 is the first protective case and detachable battery set that is entirely recyclable. We're excited to be showing it at CES because the concept of green engineering is very important to us."
To view uNu's CES 2013 online Media Kit with product info and images, please visit: myunu.com
To schedule a meeting with uNu at CES 2013, please contact unu(at)onechocolatecomms(dot)com