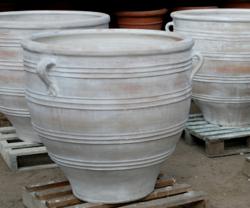 Santa Barbara, CA (PRWEB) December 18, 2012
Eye of the Day is proud to be part of the new Tommy Bahama Manhattan Island store located at 551 Fifth Avenue in New York City. Working with designer Deb McKeand of Worktable NYC, Eye of the Day provided Greek terracotta pottery for the new store.
After custom finishing the containers to Worktable's specs, the pots were shipped to New York where Eye of the Day President Brent Freitas met Ms. McKeand and Tommy Bahama CEO Terry Pillow to be sure the pottery arrived safely and met with their approval. The concept for the new store in New York is "Manhattan Island", intended to depict a tropical atmosphere. Their choice to fulfill the design was terracotta made on the Greek island of Crete.
Eye of the Day custom finished the pots to achieve an aged appearance, a service provided to both professional and retail customers for residential and commericial projects. This is Eye of the Day's first project with Tommy Bahama; the next project will be their new Chicago store.
About Eye of the Day
Eye of the Day specializes in high-end garden products including statuary, fountains and pottery from Europe and the United States. We work with designers and landscape professionals as well as retail clients to ensure that the products meet their needs and specifications. The premier pottery featured at Eye of the Day includes Gladding McBean, made in California since 1875, as well as frost-proof Italian terracotta, French Anduze, hand carved Italian stone, American concrete pottery and fountains, statuary and hand carved French limestone fountains.