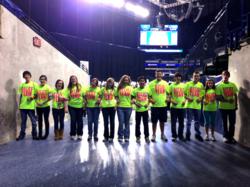 Cedar Hill, TX (PRWEB) December 14, 2012
PepWear partnered with Music for All at their Bands of America Grand National Band Championships, November 8-10 at Lucas Oil Stadium in Indianapolis, to encourage participants and spectators to show their support for the victims of Hurricane Sandy. The effort raised a total of $11,000 in donations in the name of all of the bands in America to the American Red Cross.
The initiative started with a $100 donation from Music for All President and CEO, Eric Martin and the donation of the brightly colored "Relief Team" T-Shirts from PepWear President, Craig Johnson. Volunteers could not be missed as they made their way through the stadium stands in neon yellow with collection buckets. The T-Shirts helped the volunteers stand out in the crowd and served as a "thank you" gift to them for donating their time.
The Avon High School Orchestra from Avon, IN was instrumental in gathering volunteers to help with collecting donations. In addition to helping with collecting funds, the Avon High School music community hosted the Bridgewater-Raritan H.S. band from New Jersey that was in an area affected by the hurricane. Avon High School provided the New Jersey band with rehearsal space so they could prepare for the competition, their first performance since the hurricane hit.
All of the funds were presented to the Indianapolis office of the American Red Cross in honor of ALL of the marching band and music students and boosters in America during a presentation at Avon High School on November 20, 2012.
About PepWear: PepWear is the official apparel and commemorative merchandise provider for Music for All and Bands of America. Additionally, PepWear attends hundreds of events annually across the U.S. to recognize and celebrate student achievements. They do so by offering commemorative T-Shirts, other apparel, plaques and jewelry for sale at the events. True to spirit, PepWear contributes a significant portion of its revenue, more than $800,000 last year alone, to support groups that promote youth achievement. PepWear also screenprints and embroiders over 4,000 custom apparel and promotional product orders for schools, non-profits, and businesses each year.
# # #
To learn more about PepWear, visit http://www.PepWear.com.