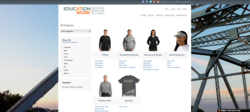 Chicago, IL (PRWEB) December 13, 2012
Customizo and Education at Work have teamed up to produce an integrated fundraising platform designed to increase brand visibility while raising additional funds necessary to support student programs. These programs are focused on Education at Work's mission to assist college students in obtaining their degree and the necessary job skills they need to secure full-time employment in the 21st Century economy. The Customizo C-store provides supporters of Education at Work with a singular concentrated marketplace from which to purchase Education at Work branded apparel. Through Customizo, supporters and patrons are also able to design and purchase their own customized apparel. Proceeds from the store assist in funding Education at Work's tuition assistance and student development programs.
The Education at Work C-store offers an array of customizable products including t-shirts by Hanes, hoodies by Tultex, jackets and golf windshirts from Nike, and polos from Izod. Users may choose an Education at Work logo to be screen printed or embroidered on apparel, or upload their own artwork to the Design Studio. The C-store also stocks Buy Now products, pre-designed and ready for purchase. With the season of giving upon us, now is the time to support the critical skills development of America's next generation and invest in our nation's future by purchasing logo'd apparel for the students in your family.
As an early bird reward, the first 100 customers to complete a purchase at the C-store automatically enter a drawing to win an Ogio Wicked Weight Half-Zip jacket embroidered with the Education at Work logo.
About Customizo and Izo Brands: With Customizo, Groupizo and Snapizo, Izo is knitting the framework for the future of e-commerce with a multi-faceted set of innovative product customization and design tools, a unique group collaboration interface, and mobile media distribution applications. Izo's mission is to be the most customer-centric, creative, and innovative company in the custom apparel and promotional products industries.
About Education at Work. Education at Work is a 501(c)3 non-profit organization providing outsourced call center and back office services to leading U.S. companies, delivered exclusively in the U.S. The organization exclusively employs college students for these service jobs. All of these students must be actively pursuing their degrees in order to be eligible for employment. College students who work for Education at Work enjoy competitive base wages plus a tuition assistance program that pays up to $6,000 per year, based on academic and work performance. Students can graduate virtually debt free through Education at Work. For more information, please visit http://www.education-at-work.org. From there you'll also be able to connect to Education at Work on Facebook, Twitter and LinkedIn, as well as to subscribe to the Education at Work blog (http://www.educationatworkblog.com) for perspective on the issues America's students are facing and other relevant updates and information.