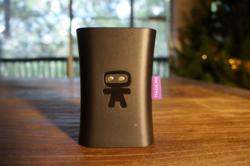 (PRWEB) December 13, 2012
Internet of Things company Ninja Blocks Inc announced today that it sold more than 500 Ninja Blocks Kits in the first three days after its launch at LeWeb Paris 2012. The Ninja Block Kit is a tiny computer and sensors that enable a new generation of apps from energy saving to security.
The number of kits sold is significant because it exceeds the entire number of Ninja Blocks sold during the company's original Kickstarter campaign in February.
When asked why they didn't return to Kickstarter, Ninja Blocks Inc co-founder and CEO Marcus Schappi responded: "We seriously considered it. However we were concerned about 'promise fatigue' with so many hardware Kickstarter projects being so late. We were very proud of being the first of our Kickstarter peers to ship and this time we wanted to ship on time."
The new Ninja Block Kit improves on the company's original offering by supporting off the shelf wireless sensors and actuators. This includes new wireless motion sensors, contact sensors, door bells and temperature and humidity sensors. More sensors and actuators, including remote control power sockets and energy monitoring devices, will be available soon.
The new Ninja Kit is $199 including four sensors. Additional sensors will retail for $5 to $15.
More information about the Ninja Block, Ninja Apps and the Ninja API can be found at http://new.ninjablocks.com .
# About Ninja Blocks Inc
Ninja Blocks was founded on January 3rd 2012 by Marcus Schappi and Pete Moore as part of the Startmate accelerator program in Sydney.
Ninja Blocks Inc is leading the Internet of Things revolution with its open source Ninja Block hardware and the Ninja API platform. Ninja Blocks are tiny computers that connect sensors and actuators to the internet. The Ninja API makes it easy for hardware and software developers to create a new breed of connected device.
# Media Resources
# Contact
To learn more about Ninja Blocks Inc, please contact:
Marcus Schappi, CEO
Suite 145, National Innovation Centre,
4 Cornwallis Street
Eveleigh, New South Wales, 2015
Australia
AU +61 488 108 307
US +1 415 409 8617
media(at)ninjablocks.com