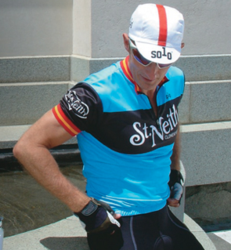 Our goal is to offer cyclists something more than just a 'modern billboard' look
Portsmouth, NH (PRWEB) December 18, 2012
Solo Cycle Clothing has established itself as one of the most high-end retro-inspired cycling clothing providers in the world. Now, cycle enthusiasts also have the opportunity to purchase the stylish, athlete-inspired Demy urban cyclewear in the United States.
"Bringing our particular aesthetic to the United States is a thrill," said Paul Mason, Founder of Solo Cycle Clothing, "With our focus on modern, function style, cycling enthusiasts in the U.S., will have another option for combining their love of cycling with their love for style."
In the past, Solo Cycle Clothing has been received well world-wide, but hadn't yet aggressively moved into the American markets with either it's retro-inspired line or Derny. Currently available in 14 countries and now in the U.S., American cyclists can now enjoy the style and functionality that only Solo and Derny can offer. Said Mason, "We have established solid markets in Asia and Europe but realized we needed a different model to reach people in America. World Wide Access will make it easier for American customers to find and to buy their favorite Solo gear."
Focused on the needs of urban cyclists, Mason and his team have spent countless hours designing pieces for the Demy collection that respond to the specific needs of the industry. With the Solo range making bold, classic designs reminiscent of the styles worn by professional cyclists during the 1950's to 1970's, the pieces from the Demy collection can as easily be worn out on a ride and they can double for workplace use or a night out on the town. "Our goal is to offer cyclists something more than just a 'modern billboard' look. With our designs, customers will get more use out of them than simply just something to wear while they ride. They will be able to incorporate their love of cycling into their everyday life and wardrobe," said Mason.
For cyclists interested in learning more about Derny and Solo Cycle Clothing , their products are currently available to the U.S. market through a variety of sources. Derny's urban cyclewear and Solo's retro-tech cycle clothing can be purchased online through websites such as Amazon.com, SoloCycleClothing.com and TheFind.com.
To learn more about Derny and Solo Cycle Clothing or to schedule an interview with Paul Mason, Founder of Solo Cycle Clothing, visit http://www.SoloCycleClothing.com.