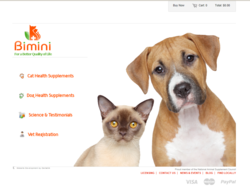 We have seen an amazing response from pet owners that tell us their cats and dogs are perkier, happier and more mobile
San Diego, CA (PRWEB) December 18, 2012
Bimini, LLC a leader and innovator for cat and dog health supplements for a better quality of life announced the launch of their new website. The new website is a response to pet owners asking for easier access to buy Bimini health supplements. The new website allows vets to register easily, order samples and add their contact information as a location of where pet owners can buy Bimini's Best Pet Health Supplements locally. We will also be running monthly educational webinars to help with continuing education for veterinarians.
The new site also provides detailed information to educate pet owners on what active ingredients are included in Bimini's Best Pet Health Supplements and why. They can easily place orders online and reference their local veterinarian clinic. Pet owners have the choice to buy as many bags as they want or set up auto ship to have one month's supply sent every month.
Bimini's Best products include the Cat Kidney Health Supplement and the unique Dog Hip & Joint health supplement that helps relieve discomfort and lubricate joints.
"We have seen an amazing response from pet owners that tell us their cats and dogs are perkier, happier and more mobile", said Julie Bryant of Bimini, LLC. "We especially love it when they send us before and after videos. This makes us strive to produce even better products. We are very humbled by the amazing support and response we have received from our customers and we want them to know we really appreciate it."
About Bimini, LLC.
Bimini was founded by scientists who produce high quality, unique, cat and dog health supplements for a better quality of life. The goal is to support the proper function of their organ systems. Dogs and cats have different biology, biochemistry and, genetics, they have different bacteria that inhabit their gut and an overall metabolism that is unique to each of them and different from humans. Therefore, Bimini was launched to design and produce the highest quality cat and dog specific health supplements made in the USA and backed by scientific evidence.
For more information, please visit the company's web site at BiminiPetHealth.com.