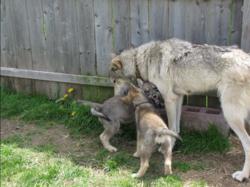 Watching Cheyenne as a mother tend to her puppies was a huge revelation as to the incredible instincts wolves have!
Mayfield Heights, OH (PRWEB) December 18, 2012
My Pack of Wolves Sanctuary had been following the progress of a female wolf that researchers had been studying for the last 6 years at Yellowstone National Park. Known only as 832F by these researchers, she was killed by hunters several weeks ago after she had wandered out of the park possibly looking for food. She was the last wolf to be wearing a radio collar that allowed researchers to track her movements every 30 minutes for study. This was important not only to understanding the wolves effect on other species population but also to understand their natural life cycle.
Wolf 832F had a particular grace and hunting prowess that made her a favorite to watch among visitors. Her "alpha" status made her a ferocious mother and leader of her pack. According to the researchers who studied her she was just as tough as the alpha males in the pack and able to take down prey by herself. Her hunting skills being lost as a result of her death has a direct impact on the survival of the remaining members. Another role of this wolf was the lead breeder in the pack meaning she was the only one to have pups. Within a pack there is only one designated female that gives birth.
Rarely did this wolf venture outside of the park. Her brother was shot earlier this year wandering away from the safety of the park by about 10 miles to hunt elk for the pack. The brother was also a hunter for food so this pack has now lost 2 hunters to feed the young.
On Monday December 10th, the Montana Fish and Wildlife commissioners voted 4-1 to halt wolf hunting and trapping in the areas connected to Yellowstone National Park. In part this was done in recognition of the importance of being able to collar these wolves and keep them alive for study and preservation.
http://mypackofwolvessanctuary.org/ has an extraordinary alpha female wolf as well named Cheyenne. Cheyenne is the leader of her pack that includes her alpha partner Dakota and 7 of her now adult puppies. In all ways that the wolf known as 832F was remarkable so in fact is Cheyenne. While mourning the loss of the Yellowstone Park wolf it is a reminder that while the debate continues among activists and hunters the fact that this wolf and her contributions to her pack will be sorely missed.
Please follow My Pack of Wolves on Twitter and Facebook! The Sanctuary needs help via donations and land and food to help these animals live and thrive!