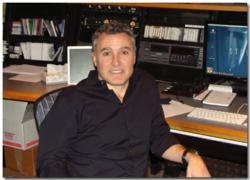 We have always kept this place very informal, as non-corporate as you can get. We work with corporate clients... When they get out of their offices, they don't want to walk into another office. They want to come into a relaxing, creative place.
Philadelphia, PA (PRWEB) December 14, 2012
Down Home Sound got an behind-the-scenes look at a Philadelphia Recording legendary institution: Baker Sound.
Baker Sound has been around for many years and provides many professional audio services from radio and television spots to Automatic Dialogue Replacement for major Television and Film studios.
This interview is a must read for anyone in the advertising industry. The information details not only what to expect from a sound house when hiring them to put together multimedia advertisements but also gives a comprehensive walk through of the entire process, such as voice talent selection, music selection, overall production and that extra special something added to every project by Rick DiDonato and the pros at Baker Sound.
The information in this interview sheds light on what it takes to achieve and maintain a solid reputation as a proven go-to team within the recording industry straight from the guys who do it, day in and day out.
If you own a recording studio, want to own a recording studio, or are just breaking into the recording industry Down Home Sound invites you to look behind the scenes of a recording studio that is not only succeeding but thriving.