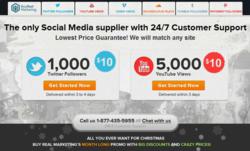 Ottawa, ON (PRWEB) December 14, 2012
Buy Real Marketing, world-provider of web 2.0 business applications and number one supplier of Twitter followers and other social media solutions, reveals plans for a much-improved Buy Real Marketing website: http://www.buyrealmarketing.com/.
The social media marketing company known for innovative improvements not only on their website designs but also on features and functionalities is again set into creating new ways to improve their clients' user experience.
Starting with the additional feature of a shopping cart, which was then only available on the BRM Client Portal™ accessed by registered users. The shopping cart will support users whose buying preference includes a one stop shopping experience unencumbered by logins and other details required of a membership.
Buy Real Marketing offers a roster of social media marketing services such top sellers Twitter followers and YouTube views, SoundCloud plays, Vimeo views, Tumblr and Pinterest followers. These services help small and medium online businesses gain traction over the tough internet marketing competition.
The boost that companies get when they pay to get more followers on Twitter or on other social profiles is substantial enough to support their marketing strategies online. Buy Real Marketing has always followed the mantra of "helping businesses grow" with the constant developments of web 2.0 business applications.
Other soon to follow improvements includes an additional sought-after social media service of delivering Facebook likes, currently available on the client portal. This service has been in demand that Buy Real Marketing has decided to make it available on the website as well.
All Buy Real Marketing services are offered with a 100% Money Back Guarantee and clients are met with friendly hard-at-work customer support representatives available 24/7.
To know more about the company's services, visit their website at http://www.buyrealmarketing.com or contact them at 1-877-435-5955 (US) 020­3289-0222 (UK).
About
Buy Real Marketing is owned by Clicking Labs. Clicking Labs is a well-established internet marketing company founded in 2010 by Jean-Patrick Bisson, Diana Quartin and Jonathan Kennedy. The company specializes in driving search marketing and social media traffic, social web app development and conversion optimization. Each product or service specifically helps small/medium website owners increase online visibility and improve online sales.
###