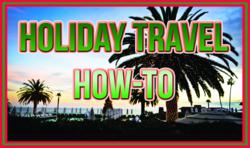 The Holiday How-To series presents solutions available to travelers year-round.
Studio City, CA (PRWEB) December 13, 2012
We're just a week away from the busiest travel period of the year: the holiday travel season. This year you can beat the system with travel guru Peter Greenberg's insider secrets to avoiding crowds and keeping your budget in check with his web original Holiday Travel How-To series.
PeterGreenberg.com Travel Correspondent Alyssa Caverley shares step-by-step plans to tackle the most common seasonal travel dilemmas. She offers solutions such as: finding cheap flights even during peak travel days; choosing budget properties with hidden perks; getting the most out of your winter road trip; finding free Wi-Fi on road; navigating the complex world of economy-class upgrades; and avoiding baggage fees by packing only a carry on.
Find out insider tips like how to find a Wi-Fi hotspot in every town across the country, the difference between a "preferred" and a "premium" seat, and the cheapest day to buy gas in the wintern.
Still have holiday travel questions? Join Peter Greenberg this Friday as he hosts a Twitter chat to answer questions about planning holiday travel. Follow him on Twitter (@PeterSGreenberg) on Friday, December 14 at 3 pm ET/noon PT and use #HolidayTravelHowTo.