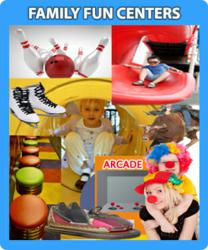 "This is where we come in,"
"Our agents are trained to educate our clients thoroughly to a state of confidence, so that they could have the peace of mind to make the best informed decision for the future of their company."
Samuel Muradyan CEO
North Hollywood, CA (PRWEB) December 14, 2012
Liberty United Insurance Services, Inc. a full service insurance agency recently launched their latest website Insurefuncenter.com as a user friendly, interactive tool for specialty insurance seekers. The Liberty United Insurance team has been providing specialty insurance for the amusement industry for the past 5 years. This website launch is yet another step Liberty United takes towards its continuous efforts of providing fast and easy access to vital information about one of the toughest to locate insurance markets. Below are some important facts about obtaining insurance for Family Entertainment Centers and the new Liberty United website that makes life easier for their owner operators.
Insurefuncenter.com is designed for a specific service focused on its client's needs. Its main goal is to be a solid resource center for all those establishments with a particular interest on the subject of Family Fun Center Insurance. Because the entire industry is generally a very recent and newly established market, currently the information available on the web is very limited. The grueling task of trying to research and acquire the proper coverage required can be challenging for anyone, let alone worrying about the best rate possible. Information can sometimes even be frustrating to an individual inquiring about an insurance program specifically designed for FEC's; it seems like people do not even know where to begin their search. "This is where we come in," says Liberty United Insurance CEO Samuel Muradyan. "Our agents are trained to educate our clients thoroughly, to a state of confidence, so that they could have the peace of mind to make the best informed decision for the future of their company."
http://www.insurefuncenter.com has been designed with the feedback of current Liberty United Insurance clientele. Having the a deep background and ties in the industry, the Liberty United staff was able to implement some of the most user friendly interactive tools in the website that will assure the convenience of its users and expedite some valuable time the business owners would otherwise waste, without a clear cut idea on who they can turn to for assistance.
One new tool is the "Certificate Request tool." Depending on the size of the operation, there are many times throughout the year that these crucial certificates of insurance will be required of the inflatable jumper's Owner/Operator. These legal documents are an essential aspect of any Inflatable Party Rental Operation and/or an indoor Fun Center's nature of business. If nothing else, it expands the operation and gives the small business owner the extra exposure they need to potential customers, which sometimes could be a determining factor in such company's future success. For instance, a new venture in the industry that is particularly more vulnerable due to a lack of experience.
Another new addition is on the websites home page. It is called the "Quick Response Tool." Over the past recent years, the general industry of inflatable and interactive amusement rides and devices has been drastically growing. As the demand for these types of recreational party equipment is becoming more and more popular, there are more manufacturers, more distributors, and evidently a lot more rental operations of either inflatables or mechanicals for that matter. However, the insurance side of such operations has not shifted much compared to the other phases of the industry. There are still limited insurance programs available nationwide, and for someone to get a hold of any fun center insurance program without a direct referral source, is like finding a needle in a haystack. The "Quick Response Tool" is designed to establish fast and easy means of a communication method between the ill-informed insurance seeker and the knowledgeable insurance expert who is more than happy to be of assistance.
Any individuals searching for information regarding Indoor or Outdoor Family Fun Center insurance or business owners that are operating Family Fun Centers who are being overwhelmed by the amount of inaccurate information floating around out there, or simply trying to start a new venture and have questions about insurance for FEC's in general. They should find themselves at ease by knowing such determined and dedicated agents are on their side, with their best interest at heart.