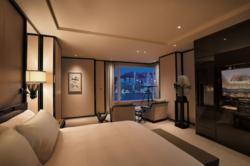 "We look forward to 2013 and continuing to share our passion and ongoing commitment for exceptional interior design, procurement, brand design and the hospitality industry" said Andrew Fay, president and chief operating officer, Gettys.
Chicago, Illinois (PRWEB) December 13, 2012
With the conclusion of 2012, the award-winning global hospitality design and interior architecture firm Gettys proudly announces a banner year with the successful completion of numerous high-profile projects, including The Peninsula Hong Kong's tower rooms and suites, Hard Rock Cancun, and the Ritz-Carlton Coconut Grove, many of which have garnered glowing accolades and noteworthy awards. Renowned for their expertise in evoking a distinct sense of place communicated through design, and a client base spanning the globe from the Americas to the Caribbean, the Middle East to Asia Pacific, Gettys anticipates a dynamic beginning to 2013 as the firm spearheads internationally recognized projects and launches a new website and rebranding campaign that will solidify the firm as one of the world's leading hospitality design and interior architecture firms.
"2012 has been an exciting year for The Gettys Group – exciting projects, wonderful clients and global travel to work with our teams," said Andrew Fay, president and chief operating officer, Gettys. "We look forward to 2013 and continuing to share our passion and ongoing commitment for exceptional interior design, procurement, brand design and the hospitality industry."
Successes in 2012 – Already a prolific year, Gettys concludes the fourth quarter of 2012 with the completion of several notable and high-profile hospitality design projects on continents across the world. Prominently selected as the firm of record to work with The Peninsula Hotels on a comprehensive $60 million renovation of The Peninsula Hong Kong, one of Asia's most iconic destination properties, Gettys unveiled the expertly-renovated guestrooms and suites in the Peninsula Hong Kong's Tower to the public on Sept. 6, 2012. With their signature meticulous attention to detail, Gettys custom-tailored every aspect of the project for a perfect melding of modern and traditional design. Gettys' project will culminate with the complete overhaul of all 300 of the hotel's guestrooms and corridors by April 2013, coinciding with the property's 85th anniversary. Upon completion, the substantial transformation will cement The Peninsula Hong Kong's reputation as "The Grande Dame of the Far East" and a world-class icon continuing to define the luxury travel experience.
Opened in October 2012, Gettys led the renovation and rebranding project to launch Hard Rock Mexico, transforming the existing Palace Resorts property to an all-inclusive Hard Rock hotel. In November 2011, Gettys commenced their collaboration with All Inclusive Collection and Hard Rock Hotels, infusing Hard Rock's signature rockstar vibe and red carpet experience into the original property's neutral canvas. The renovations included a new arrival court, entry lobby and reception area, VIP spaces, gaming lounge and lobby bar, as well as edgy updates to guestrooms, suites, food and beverage outlets and other public areas. Gettys' precisely executed plan, features carefully selected design details including the neon back-lit glass staircase at the lobby entrance, black smoked mirrors, rocked-out metal chain curtains, dramatic lighting and noteworthy memorabilia. The updated look ensures each guest receives a dazzling celebrity experience, from the VIP arrival, to the dynamic after-party mood of the rocking bar and lounge, to the private "Green Room" sanctuary of their guestroom.
Unveiled in October 2012, Gettys and the Ritz-Carlton Coconut Grove, Miami unveiled a new lobby and lounge concept featuring a peacock-inspired look honoring the bohemian-rich Coconut Grove culture. In conjunction with the hotel's 10th anniversary, the glitteringly vibrant redesign perfectly captures the destination with a richly bohemian ambiance evocative of the destination. Gettys also closes out the year with its renovation of Marriott Indianapolis' lobby – which was awarded renovation of the year by Marriott Hotels & Resorts.
The Year Ahead – On track for reopening February 2013, Le Meridien Atlanta in Georgia encompasses Gettys' renovation of all guestrooms, suites, Club Level Lounge and Corridors, as well as public areas including the lobby, reception, bar, private dining room and small library. A new restaurant addition with a patio enclosure is also a focal point of the transformation. Infused with the alluring aura of travel and the creative arts, the new Le Meridien Atlanta will feature a fresh, contemporary style with a nod to mid-century modern.
A notable achievement, Gettys procurement division has entered the Kingdom of Saudi Arabia, with its first contract win for Rosewood Al Faisaliah, Durrat Arriyadh. Scheduled for completion in August 2013, the five-star, 152-room resort features ten villas, three restaurants, one lounge, banquet facilities and a spa and fitness center.
Slated for opening early in 2013, Gettys will spearhead the five-star Al Ghurair Rayhaan Hotel & Arjaan Serviced Apartments in Dubai. A brand synonymous to world class Arabic hospitality, the Rotana property features 428 guest rooms and 193 serviced apartments, ranging from one to three bedrooms. In addition to all guestrooms and apartments, the scope of work will also involve the creation of public areas, multiple food and beverage outlets and business center.
International Acclaim – Widely recognized for their innovative hospitality projects in Asia, the Middle East, the U.S., and the Caribbean, Gettys has received numerous awards and accolades in 2012. In October 2012, Gettys' project the Sheraton Seoul D Cube City Hotel received the accolade "Best New Business Hotel" in Asia Pacific from Business Traveller Magazine, the first hotel in Korea to receive the award. A notable accomplishment, Gettys was honored by NEWH, The Hospitality Industry Network, with inclusion in the "First Annual NEWH Top ID List" for 2012. An impressive list celebrating top hospitality interior design firms, Gettys was acknowledged as a firm in multiple regions that displays "dedication and creativity" in the industry and will be featured in the magazine for all of 2013. Also in 2012, The Westin Abu Dhabi Golf Resort & Spa, a design project led by Gettys, was short-listed for the "Best Hotel Design – Resort" award in the International Hotel, Motel and Restaurants Show's (IHMRS) 2012 Gold Key Awards in September 2012. Glowing reviews for Gettys' design have also been featured in top luxury publications including Haute Hotel Network, Luxury Travel Magazine, Hospitality Interiors, Design & Trend, and more. As experts in their field, Gettys design team members have been honored as prestigious keynote speakers and panelists at internationally recognized industry events this year, including the Global Gaming Expo in Las Vegas, the LifeStyle/Boutique 2012 Hotel Development Conference in Miami Beach, as well as REIA Chicago, the Boutique & Lifestyle Leadership Symposium, and more.
About Gettys
Gettys is an award-winning, creative and innovative team of business-minded hospitality and hotel design experts headquartered in Chicago with offices throughout the Americas, Asia Pacific and the Middle East. For 25 years across the globe, Gettys has specialized in creating value through interior design, procurement, branding, and development services from project conception to completion. For more information and a sampling of Gettys' extensive portfolio, please visit http://www.gettys.com.