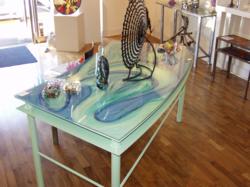 "We are happy to donate to charity and give back to our community.We believe in bringing people together to support growth and harmony,"
Tony D'Aula
(The Fire Garden)
San Diego, CA (PRWEB) December 13, 2012
The spirit of Christmas and good will toward mankind is alive and well at The Fire Garden, North San Diego County's most unique weddings/events venue and designer/fabricator of artistic metal fire sculptures and furnishings.
The Fire Garden announces the donation of "The Edge Desk". A one of a kind steel desk created by Tony D'Aula, owner of The Fire Garden.
The desk has been donated to MarinLink, sponsor of World Hoop Day and is valued at $5000.00.
MarinLink, based in San Rafael, CA is an organization that helps community-minded people realize their dreams, serving as an incubator, fiscal sponsor, and multi-faceted resource for real solutions in the areas of homeless services,community gardens,environmental education projects,veterans programs,health and transportation initiatives.
World Hoop Day's quest is to bring joy, peace and freedom to children around the world. Teaching about love and sharing across borders and offering the experience of art, dance and flow.
The benefits of playing with a hoop include having a fit, leaner body with a stronger core and leaner muscles. Hooping improves self-confidence, inner peace, contentment and relieves depression.
Every year on an international, easy-to-remember date World Hoop Day volunteers invite their communities to share in the vision of creating a more peaceful world through play and giving back. Goals of World Hoop Day's annual event are to recruit new hoopers through teaching lessons of hoop making and dance, sharing of music, food, games and laughter, and raising funds to distribute hoops to as many individuals in the world as possible.
For more info: http://www.WorldHoopDay.org
The Fire Garden has been bringing community together to experience art,music and performance in a private,natural atmosphere for over 12 years.
For more information please visit The Fire Garden website at http://www.firegardenevents.com or contact the owner, Tony D'Aula at 760 631 0883