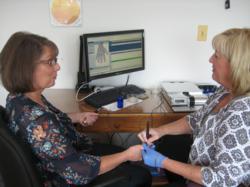 The condition referred to as Avenin Sensitive Enteropathy (ASE), is separate protein intolerance than Celiac disease. Those with ASE are specifically reactive to the protein found in oats, avenin.
Orland Park, IL (PRWEB) December 13, 2012
Barbara Griffin, NMD, CNC, Certified Gluten Practitioner and owner of Vital Health Inc. outlines why some Celiacs cannot tolerate certified gluten-free oats. Dr. Griffin has seen a correlation that some Celiacs and those with a gluten sensitivity, can also have a secondary intolerance to "avenin" a protein intolerance found in oats. As a result, even if certified gluten-free oats are consumed a reaction can occur.
Dr. Griffin shared, "The condition referred to as Avenin Sensitive Enteropathy (ASE), is separate protein intolerance than Celiac disease. Those with ASE are specifically reactive to the protein found in oats, avenin. If someone has intolerance to avenin, they will react to oats with gastrointestinal and eczema being the two leading symptoms. The condition becomes much more complex for individuals who also have gluten-sensitive enteropathy since many professional organizations and physicians dealing with Celiac patients say it is typically fine for those with Celiac disease to consume up to a half cup of pure, certified gluten-free oats each day."
The Difference between Wheat and Oat Lies In the Grain
Pure oats are a grain that is separate from wheat, so oats are wheat free. However, oats and wheat are often harvested together and milled in the same processing facility. And due to the similar shape and size of the wheat kernel and oat groat, cross-contamination is always a possibility.
Whole oats are oats that still contain their endosperm, bran and germ. Whole oats are an excellent source of fiber, protein and vitamins. Studies have shown that whole oats have a specific kind of fiber referred to as beta-glucan, which has shown to be especially effective in lowering cholesterol. Whole grain oats contain seven vitamins, including vitamin E and a host of nutrients, including iron and calcium. Oats have twice the amount of protein than whole wheat or whole corn. Whole oat products include whole grain oat groats, steel cut oats and thick oats.
Gluten is the protein found in foods processed from whole wheat and related grain species, including barley and rye. Gluten gives elasticity to dough, helping it rise and keeps its shape and often gives the final product a chewy texture. Gluten may also be found in some cosmetics, hair products, and other dermatological preparations.
Because research about avenin and Celiac disease is relatively new, there are still many unanswered questions on this topic. For example, gluten-sensitive enteropathy and is common and more severe form, celiac disease, results in the increased inflammation of the tissues of the small bowel eventually leading to villous atrophy. Originally, oats were believed to be a factor causing celiac disease. However, this confusion was linked directly to the significant contamination of oats with wheat, barley or rye. Dr. Griffin recommends a few guidelines:
1. If a strict gluten-free diet is being followed, which does include a consumption of gluten-free oats, and persistent celiac symptoms are still present, it may be warranted to have a physician check to see if avenin-sensitive enteropathy could be the cause. Testing positive would mean removing all oats, even those named as "gluten free" oats from the diet.
2. Listen to your body's symptoms. If after eating a new gluten-free food and that contains oats and it yields digestive upset or other complication, it could be oats. An elimination diet is an effective way to determine if consuming gluten-free oats is okay. If a person feels ill (even if it is minimal bloating, minor gastrointestinal discomfort, or hives), they should probably eliminate oats from the diet and see how they feel after a few days. If the negative symptoms improve after removing oats from the diet, oats are likely the culprit and should be avoided.
Dr. Griffin concluded, "Having an oat sensitivity or avenin-sensitive enteropathy alone typically does not cause the severe intestinal damage as seen with celiac disease. However, allergies to food can be mild or severe enough to cause anaphylaxis or a life-threatening reaction and need to be taken seriously. An allergy to oats, especially in children, can typically make eczema and asthma more prevalent."
About Vital Health, Inc.:
At Vital Health, Inc. Dr. Griffin integrates a whole body approach with the intention of facilitating wellbeing and optimal health amongst her clients. Dr. Griffin's specialties include: traditional naturopathy, nutrition, EAV Meridian Stress Assessment, Food Sensitivity Screening, Environmental Screenings, Iridology, SKASYS, Live Blood Cell Analysis as well as established integrative therapies such as Neuroemotional Therapy, Neuromodulation Technique, Cold Laser Therapy, Emotional Stress Integration and Neuro-link Technique. In addition, Jade Derma Ray Lymphatic Massage and Bio Cleanse Foot Detox are also available at Vital Health, Inc. For more information please visit Vital Health's website at http://www.vitalhealth.org.