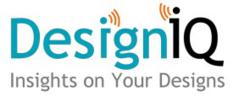 DesignIQ gives our clients valid data from the very target consumer our clients want to reach. As a turnkey solution, DesignIQ delivers valid, actionable data presented in a comprehensive research report
Minneapolis, MN (PRWEB) December 18, 2012
"DesignIQ was developed out of necessity to fill a specific need," said Robert Boese, VP Operations for ClickIQ. "ClickIQ does custom concept testing on a regular basis for many of our clients, what makes DesignIQ different is that we have created a modifiable template solution that mirrors our custom surveys in every way, except DesignIQ focuses purely on design concepts and intent to purchase. Each DesignIQ study is very targeted and succinct, yet comprehensive, giving our clients actionable design insights at a tremendous value. The designer, sales executive, merchandise manager and buyer can use the results report, complete with an "at a glance" graphic summary, to immediately check key results and finalize a design assortment with a high degree of confidence."
Ken Haffner, CEO of Holoma Inc. worked closely with ClickIQ during the development and testing phase of DesignIQ. Haffner stated, "Our clients are looking for ways to validate design choices…to help limit the inherent financial risks marketers face when a product fails to perform. Retail chains expect considerable markdown support from their vendors, which can severely impact profitability. DesignIQ gives our clients valid data from the very target consumer our clients want to reach. As a turnkey solution, DesignIQ delivers valid, actionable data presented in a comprehensive research report."
DesignIQ features and benefits:

Provides a custom study based off a proven formula to engage respondents and deliver data with guaranteed level of integrity
Identifies and reaches relevant shoppers/consumers to interview
o Have purchased or likely to purchase similar and/or related products
o Interested in similar and/or related designs to be tested

Provides actionable insights about consumers preference(s) on a set of given designs for a specific product/item.
Analyzes findings and delivers a concise yet comprehensive report
Haffner further explained, "There are hundreds of products with a strong sales history, where the determining success factor is the design of the product. Consider placemats, shower curtains, stickers, dinnerware, graphic t-shirts, top of bed, coffee mugs, stationery, gift wrap and greeting cards, home and seasonal décor, oven mitts and aprons and on and on. We already know these products sell and how to price, package and merchandise them. The only variable that can impact success is the design. Will this blue dog sell better than this red dog? Will this dancing dog sell better than this flying pig? DesignIQ takes out the guesswork."
About ClickIQ
ClickIQ, Inc., based in Minneapolis, Minnesota, is an award-winning market research firm that employs fully integrated online management tools, a proprietary consumer panel, and skilled market research analysts to deliver quantitative consumer and shopper insights to some of the best known and most respected companies across the U.S.
About Holoma
Holoma, Inc. is a full service Consumer Product Workshop servicing marketers and manufacturers in multiple retail trade channels. Holoma provides strategic planning, brand development, product conception, market research, product design, manufacturing, packaging and merchandising, marketing support and sales planning, management and execution. Holoma specializes in Home Décor, Arts & Crafts, Office and Stationery, Housewares and Automotive, Gift and Specialty Food.