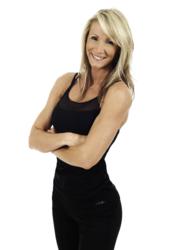 Elizabethtown, KY (PRWEB) December 13, 2012
Fit Yummy Mummy, a fitness company devoted to exercises for moms, is promoting a diet book for its ongoing 12 Days of Christmas Promotion. The Fit Yummy Mummy Cookbook provides busy moms with healthy recipes and diet tips.
The product went on sale Tuesday. Currently available for 50% off the retail price, the FYM Cookbook promotion ends tonight.
Busy mom fitness expert Holly Rigsby, owner of the company Fit Yummy Mummy, notes that diet trends in the United States and elsewhere have been troubling in recent years. The World Health Organization has cited that 16% of the world population is overweight and that in 2015 over 300 million women will be obese.
"Much of the reason for the deteriorating health of people all over the world, is that we just aren't eating healthy foods," Rigsby says. "Let's face it: there's a fast food chain on every corner, and it's easy for busy moms to eat poorly and skip their postpartum workouts."
Rigsby notes that while these trends certainly affect people of all ages and genders, "busy moms who struggle with that baby belly bulge should be among the most alarmed."
Rigsby continues, "That is the whole purpose of Fit Yummy Mummy – to help with busy mom fat loss."
"Trainers have been saying it for years, but it really is true," Rigsby continues. "You cannot out-train a bad diet. No matter how hard you push, no matter how 'insane' your workouts, you have to fuel your body with the types of foods that will push you over the top."
The Fit Yummy Mummy Cookbook comes with over 200 pages of recipes geared toward fat loss, as well as numerous other dieting tips and cheat sheets. "My favorite food is watermelon, so I was sure to throw in some good watermelon recipes," Rigsby proudly proclaims.
Rigsby also writes a Fit Yummy Mummy blog to offer nutrition advice and general tips on fitness to new moms.
The Fit Yummy Mummy Cookbook is on sale through Midnight tonight as part of Fit Yummy Mummy's ongoing 12 Days of Christmas promotion. The regular price is $47, but you can order it now for 50% off.
For more information on the cookbook, visit: http://fymcookbook.com/christmas
About Holly Rigsby: Holly Rigsby is the Co-Owner of Fit Yummy Mummy. She offers her clients a variety of training products to help them burn fat and writes a fitness blog for FYM.
Fit Yummy Mummy is part of the Fitness Consulting Group family of companies. FYM releases fitness products for moms looking to burn fat and get in shape. It also offers workout tips through its blog.
For more information on Fit Yummy Mummy, visit: http://getfitandyummy.com