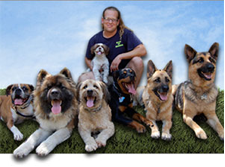 (PRWEB) December 15, 2012
In this special and rare opportunity, dog trainers Sean O'Shea of the Good Dog Training & Rehabilitation in Los Angeles, CA and Jeff Gellman of Solid K9 Training in Providence, RI will be hosting a How to Be a Highly Effective Dog Trainer Seminar In Canyon County, CA and Providence, RI. There they will share how to excel-in both hands-on Dog Training, as well as the often-overlooked and misunderstood business world of Dog Training.
The Seminars are for a range of Dog Enthusiasts, from those who are just starting out, to seasoned professionals looking to sharpen their skills. It will be a fantastic opportunity for Dog Enthusiasts to take their game to an entirely different level.
Sean and Jeff will discuss how, even in difficult economic times, they have continued to grow their businesses at incredible rates.
Jeff and Sean will share their unique and specialized training approach, that has proven to be highly effective in addressing everything from everyday problem behavior to the most severe behavior problems (standard obedience to cutting edge e-collar training). Jeff and Sean have developed reputations as trainers who can handle any situation, and are often the last call before a dog is surrendered or euthanized.
The Seminars will be in Canyon County, California on January 17th through 20th of 2013, and also in Providence, RI on March 21st through 24th of 2013.
Find more information at Trainthetrainerswithjeffandsean.com. Please contact Sean at thegooddog_la(at)yahoo(dot)com or Jeff at 401-527-6354 or Email: jeff(at)solidk9training(dot)com to sign up.
Jeff Gellman is a Rhode Island based Dog Trainer who operates Solid K9 Training, a board & train facility that also works with clients for in-home training. He also has his own dog shelter called Jeff's Pack Animal Rescue Foundation that saves dogs from euthanasia, striving to find them suitable homes. Jeff has been in the business for 10 years and has grown his company from a one-man Training service to a full Board & Train facility with full time staff that has trained over a thousand dogs over the years. Jeff personally visits 20-30 homes per week in the New England area, helping owners & families achieve meaningful relationships with their dogs. You can visit Jeff's blog here: Dog Training Blog.
Solid K9 Training Providence, RI (401) 527-6354