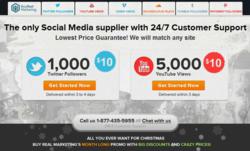 Ottawa, ON (PRWEB) December 16, 2012
Buy Real Marketing, aiming to be the number one supplier of Twitter followers, YouTube views and other roster of social media services, shows competitive advantage with lowest price guarantee.
Simply put, when clients find suppliers that offer the same services that are much cheaper than Buy Real Marketing, all they have to do is inform the company and they will automatically drop their prices further to match the competition.
Lowest price guarantee is a strategy that Buy Real Marketing has thought of to ward off other competitors from gaining the upper hand. With thousands of similar services popping up every day, duplicating designs and functions of the company, Buy Real Marketing shifted strategies that the competitions cannot afford to challenge.
"The company has been on their toes looking for ways to discourage competitors from copying our every move. Applying the lowest price guarantee strategy will determine how far the competition will go," explains JP Bisson, Managing Director for Buy Real Marketing.
Searching the web for the keyword "sites like buyrealmarketing.com", shows tons of results with websites offering to develop website the same as Buy Real Marketing. "It is often disheartening but at the same time boosts our self-confidence that our service is worth copying," he adds.
The lowest price guarantee applies to all services of the company until the Christmas season ends. When clients want to buy Twitter followers or YouTube views on Buy Real Marketing and found other suppliers much cheaper, the company will not hesitate to drop the price to match the competition.
Buy Real Marketing also does this to give more value to their loyal clients, especially to those with tight finances and start-up businesses that have yet to earn enough income to create a top-notch social media marketing campaign.
Buy Real Marketing offers a roster of social media marketing services that include Twitter followers, YouTube views, SoundCloud plays, Vimeo views, Pinterest followers and Tumblr followers. The services are offered with a 100% Money Back Guarantee and clients are met with friendly hard-at-worked customer support representatives available 24/7.
To know more about the company's services, visit their website at http://www.buyrealmarketing.com or contact them at 1-877-435-5955 (US) or 020­3289-0222 (UK).
About
Buy Real Marketing is owned by Clicking Labs. Clicking Labs is a well-established internet marketing company founded in 2010 by Jean-Patrick Bisson, Diana Quartin and Jonathan Kennedy. The company specializes in driving search marketing and social media traffic, social web app development and conversion optimization. Each product or service specifically helps small/medium website owners increase online visibility and improve online sales.
###