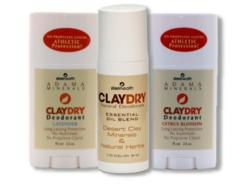 All of the deodorants we offer are 100 percent vegan and contain no parabens
Bakersfield, California (PRWEB) December 13, 2012
Earlier this week, Spirit Detox (SpiritDetox.com) announced the addition of a line of natural deodorants to their health and beauty product lineup. The deodorants, made by Zion Health, contain natural clay and other plant-based ingredients to absorb sweat and neutralize body odors naturally, without the toxins found in common antiperspirants.
"Our consumers are passionate about finding natural remedies and treatments for common problems," said Albert Milligan, owner of Spirit Detox. "One problem plaguing almost everyone is the problem of body odor. Modern deodorants contain toxic heavy metals that can harm health over the long term. With the introduction of these clay-based deodorants to the Spirit Detox store, we offer a natural alternative to these products that is highly effective."
The line of eight deodorant contains clay minerals to absorb sweat. The clay is beneficial in that it will not block all sweat, which the body needs to cool itself naturally, and neither will it clog the pores. The deodorant also contains chamomile, calendula and alpine, three plant-based ingredients that naturally neutralize odors. Combined, these provide the same level of protection that traditional deodorants offer, without the risk.
"All of the deodorants we offer are 100 percent vegan and contain no parabens," said Mr. Milligan. "At Spirit Detox, this lines up perfectly with our passion to be good global citizens and provide products that protect both the human and animal life on this planet."
About Spirit Detox
Spirit Detox is an online retailer dedicated to helping humans and animals live a healthier life through products that harness the power of healing clay. They sell detoxing supplements, natural beauty and hygiene products and nutritional aids to improve the health of their customers. To learn more about the healing power of clay, visit http://www.SpiritDetox.com.
##
Contact:
Albert Milligan
Owner/Founder
Ph: 800-699-1077