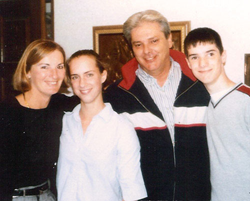 NEW YORK, New York (PRWEB) December 13, 2012
The law firm of Levy Phillips & Konigsberg obtained a historic verdict yesterday in the Southern District of New York (White Plains), on behalf of the estate of William Champagne*. At the conclusion of a three-week trial, the jury determined that RJ Reynolds (through a predecessor company American Tobacco) negligently failed to warn William Champagne during his teenage years of the health hazards and addictiveness of its Lucky Strike cigarettes, and that this failure to warn was a cause of his lung cancer and death.
Mr. Champagne, born in 1950, started smoking Lucky Strike cigarettes by the age of 12 years old. He became severely addicted, and continued to smoke until shortly before he was diagnosed with lung cancer in 2003. The youth smoking allegations against American Tobacco were limited to the time period up until September 11, 1968, when Mr. Champagne turned 18 years old. During these years, in which Mr. Champagne was a minor, American Tobacco did not include any warnings on its cigarette advertisements and did not include any warning on cigarette packs until the federal government required a "caution" label beginning in 1966, stating only that "cigarettes may be hazardous to your health."
Mr. Champagne's lung cancer was ultimately fatal and he passed away on June 25, 2004, at the age of 53. Mr. Champagne, a self-made man who owned several successful trucking businesses, is survived by his wife Eileen Clinton and his children, Jennifer and Billy Champagne. Jerome Block and Amber Long of Levy Phillips & Konigsberg LLP tried the case on their behalf.
American Tobacco unsuccessfully argued that Mr. Champagne suffered from a type of lung cancer not caused by smoking. American Tobacco also argued to the jury that it had no duty to warn Mr. Champagne of the health hazards and/or addictiveness of smoking because it had legitimate doubts in the 1950s and 1960s about whether smoking was a cause of lung cancer and because it claimed such hazards were already "common knowledge" during the same time period. The jury rejected these arguments in finding for Mr. Champagne and his family, and awarded $1,345,000 in damages.
The 1994 Surgeon General's Report, Preventing Tobacco Use Among Young People, recognized that addiction to nicotine in cigarettes frequently begins in adolescence and that youth smokers are more likely to become heavily addicted adult smokers.
On a separate claim, the jury found that co-defendant Phillip Morris fraudulently marketed "Marlboro Lights", a brand of cigarettes that Mr. Champagne later smoked as an adult, but that this was not a cause of his lung cancer.
For more details about the trial and verdict, contact either Jerome Block (212-605-6270 or jblock(at)levylaw(dot)com) or Amber Long (212-605-6249 or along(at)levylaw(dot)com).

Eileen A. Clinton, on behalf of herself and as administratrix of the estate of William A. Champagne, Jr., vs. Brown & Williamson Holdings, Inc., as successor by merger to American Tobacco Company, and Philip Morris USA Inc., No. 05 Civ. 9907 (CS) (LMS) (S.D.N.Y).