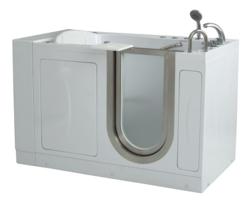 This new Twitter page will be loaded with special offers and incentives on walk in bathtubs not found anywhere else on the web.
Denver, CO (PRWEB) December 13, 2012
Aging Safely Baths, a national distributor of walk in bathtubs and roll in showers, officially announces that it has improved its social media presence by updating its Twitter page. Customers will be able to easily gain access by pointing their mouse on the Twitter icon at the top of the home page. By clicking the Twitter logo, it will instantly transport viewers to the updated Twitter page, which has the new Aging Safely Baths @elderlybath name. The new social media page provides customers with information about senior bathtubs and contains easy to read snippets and information on what's happening in the aging in place industry, specifically bathroom safety products.
The convenient access to the updated Twitter page is another way Aging Safely Baths & More is expanding its social media presence to better serve existing and potential customers. Many customers want walk in bathtubs because they have difficulty accessing a standard bathtub, and feel a sense of independence is something you cannot put a price tag on.
Aging Safely Baths CEO, Zach Wennstedt, said, "For many of Aging Safely's customers, purchasing this type of product can help them enjoy safe bathing, but it can also be a significant investment for some people. The new Twitter page provides customers with special discount codes and updates on aging in place topics and products not found anywhere else online."
Customers can conveniently click on photographs of new products and featured sales items. Aging Safely will post specials exclusively on Twitter, so followers and visiting customers can enjoy additional savings on the already low prices of Aging Safely's safe bathing products. Twitter page visitors can also learn about upcoming sales before they happen. Customers, who need a handicap accessible bathtub appliance, will have confidence and assurance with the quality and lifetime guarantees that come standard on their extensive product line.
Shoppers can learn about unique options as well, such as the different types of hydrotherapy, special chromatherapy mood lighting, heated seats and other ways to personalize the bathing experience. Since many customers have been diagnosed with medical conditions that inhibit safe entry into a traditional style bathtub, they will find assurance in that Aging Safely offers a full selection of ADA complaint products to meet their specific needs for safer bathing alternatives.
Customers can interactively become involved in discussions by tweeting, so they can learn about walk in bathtubs and get the precise information they are looking for. In addition Aging Safely's new Twitter page has numerous resources listed for other organizations catering to the aging population. The company does not endorse any resources listed, but provides a simple way for visitors to find exactly what they are looking for. Aging Safely welcomes customers to visit, tweet and become followers on their improved Twitter page.
Contact Information:
Zachary Wennstedt
1-888-779-BATH(2284)
info(at)agingsafelybaths(dot)com