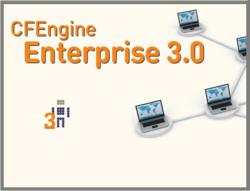 SAN DIEGO, CA (PRWEB) December 13, 2012
CFEngine Inc. announced CFEngine Enterprise 3.0 at LISA'12, the annual System Administrators Conference by Usenix. The product is based on CFEngine Community, the world's leading open source configuration management software – adding special capabilities needed for enterprise use. First introduced in 2009, CFEngine Enterprise today automates large-scale IT infrastructure at leading organizations worldwide in banking, ecommerce, hosting and government, with deployments of tens of thousands of servers and more.
"IT organizations need to cooperate closely with software development teams, enabling fast cycles between software releases and deployment in production environments," says Thomas Ryd, CFEngine co-founder and CEO. "But continuous integration and deployment of applications is not enough. IT needs to continuously maintain the IT infrastructure in its desired state to avoid system drift and guarantee ongoing reliable operation of applications. CFEngine Enterprise 3.0 is uniquely designed to support this full life cycle, from provisioning, to maintenance to analysis."
"This release is heavily influenced by what we've learnt from participating in the DevOps community. Issues like continuous deployment of both applications and infrastructure, without any downtime, modular provisioning and smart monitoring have been core focuses. We also have a much improved the analytical capabilities, with specialized "apps" for browsing the aggregate data according to particular roles and viewpoints," says Mark Burgess, CFEngine co-founder and CTO. "This release is really a new chapter for CFEngine - one that focuses on the user experience – and which ties together all aspects of our mission to deliver smart infrastructure into a coherent technology."
Among the new features of CFEngine Enterprise 3.0 are:

Integration with Design Center 3.4: Deploy and configure infrastructure of any scale using the templates and tools provided by Design Center, or extend the library with configuration management policies specific to your organization.
Enhanced support for Application Servers: With improved support for orchestration and XML, it is easier than ever to provision and manage the configurations of a wide range of application servers.
Enhanced platform support: In addition to the platforms supported by CFEngine Community, CFEngine Enterprise 3.0 supports Windows, Android, and a range of storage and network devices.
Continuous maintenance and real-time reporting: CFEngine Enterprise's agents execute their policy checks continuously to maintain the systems configuration in compliant state at all time. The new Event Tracker shows any drifts from compliance and repairs executed by CFEngine in real-time.
Performance and scalability: CFEngine Enterprise captures vast amounts of data generated by all agents' activities in a centralized database. It supports monitoring, analytics and compliance reporting for up to 5,000 nodes per CFEngine management server.
Analytics Applications: The 'Mission Portal' of CFEngine Enterprise provides System Administrators with detailed information about the actual state of the IT infrastructure and how that compares with the desired state.
SQL Reporting: In addition to improved REST API's, version 3.0 adds a SQL interface to its database, so users can easily create and schedule reports to match all their needs.
"CFEngine Enterprise collects semantically rich information about the IT operations that it automates, sampling tens of thousands of events per server per hour," says Volker Hilsheimer, Director of Engineering at CFEngine. "In large-scale infrastructures, this generates billions of recorded events per day. With the new SQL access to this configuration management data, users can explore trends and correlations to obtain vital insight into the state of their IT operations."
About CFEngine
At CFEngine, our mission is to help people manage a world of smart infrastructure. We enable CFEngine users to become agents of change and innovation, and not have to constantly fight IT bottlenecks and outages. Our lightweight and de-centralized architecture lets engineers build and manage IT operations of any scale and complexity. Our continuous configuration management ensures that IT systems do not drift and are always maintained at - or converging to - their desired state. For more information, please visit us at cfengine.com.