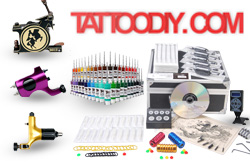 (PRWEB) December 13, 2012
On Dec 12, 2012, TattooDIY.com, a leading tattoo kit online supplier, announced that its new rotary tattoo machine would be launched on Dec. 17, next Monday.
According to Sophia Shen, CEO of TattooDIY.com, the new rotary tattoo machine is featured as lightweight and hard plastic body, and it won't make a user's hand tired after hours of use. In addition, it runs almost silently even with a heavy-duty motor.
The new rotary tattoo machine is with necessary certificates, like CE, FCC, RoHS, and, etc. Sophia Shen said, "It is very important for artists to find safe and high-quality tattoo products before operation. Customers' safety and health are always the most important thing for our company."
TattooDIY.com has obtained customers' trust and recognition for its good corporate reputation. Sophia Shen continued, "Not only we offer a full range of tattoo supplies, but also other tattoo accessories at affordable prices. Do you want to be more unique? Don't hesitate to find your professional tattoo kits on our website."
In addition, TattooDIY.com is launching a promotion of tattoo supplies, including tattoo kits, tattoo machines, tattoo inks, tattoo power supplies, and so on, from Dec. 6 to Dec. 31, 2012. All the customers for tattoo supplies can get a discount, up to 59% off.
About TattooDIY.com
Founded in 2008, TattooDIY.com is a professional tattoo machine supplier, offering more than one thousand kinds of high-quality tattoo supplies. Most of its customers are from the US, Europe, and Australia. TattooDIY.com uses international carriers with good reputation, like DHL, EMS, or TNT to deliver their goods, so the customers can receive their products within one week.