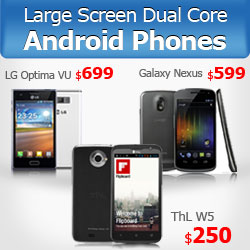 There are some serious savings to be had for anyone who is willing to look outside the marquee electronic brands
(PRWEB) December 20, 2012
TECH buyers looking for large screen Android phones that deliver performance without a high price tag should look towards a newly launched line of ThL-branded W5 Android phones, according to a product line-up announcement from China Android Phone Seller Chinavasion.
According to Chinavasion PR Manager Rose Li, savvy phone shoppers could save between 150 and 500 USD on a large screen Android device by purchasing a China branded phone and still expect to get a device with a high resolution screen, cutting edge operating system and a powerful dual core processor.
"There are some serious savings to be had for anyone who is willing to look outside the marquee electronic brands," says Li.
People looking to purchase a brand name large screen Android phone can expect to pay between 360 and 700 US Dollars with the LG Optima VU being priced at USD 699 at some online stores and the Samsung Galaxy Nexus going for anywhere between 365 and 599 USD.
This is despite the LG Optima VU having a comparatively mid-range screen resolution of 480 x 800 pixels and runs on an Android 2.3 OS while using a 5MP camera, and the Nexus with a 1750 mAh battery.
In comparison, the ThL W5 Android phone announced by Chinavasion is only priced at 250 USD and operate a 1GHz dual core processor, Android 4.0 operating system and capture images with a 8MP camera. The slightly different ThL W1 also equipped with dual core Android 4.0 phones even sells for less than 190 USD.
"When it comes to value for money nothing comes close to the China Android phones on offer at Chinavasion," says Li. "Where else could you get a dual core phone for under 300 USD?"
With a 15 year history of making GSM products phone maker ThL is one of the more experienced phone makers in China and Li says they are well known for producing competitively priced well made cell phones and cell phone accessories.
"ThL has been around as long as HTC and we are glad to be working with this reputable manufacturer's own-brand as we build up the international reputation of these high quality and low priced phoes." says Li.
Chinavasion is a Hong Kong and China based wholesaler specializing in Android Cell Phones. For more information and pricing on all their products, see http://www.chinavasion.com/android-phones