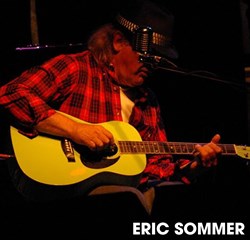 Eric Sommer is the bad ass king of Americana... hands down!
Mike Utley
Midwest Music Press
Asheville, North Carolina (PRWEB) December 15, 2012
Eric Sommer - and The Solar Flares - have a date with The Piedmont.
Guitar player, singer and songwriter Eric Sommer is bringing his trio - The Solar Flares - to The Piedmont for the Holiday Season. Their Piedmont Schedule takes them to Asheville, Swannanoa and Black Mountain, NC as well as Chartlottesville, Scottsville, and Richmond, Virginia.
Fresh off the release of their new disc - a collection of 10 songs and 2 guitar instrumentals - Eric Sommer and The Solar Flares are riding pretty high in the saddle. Recent solo shows in Little Rock and the overwhelming response to Rainy Day Karma has a lot of industry folks nodding their collective head, signaling the approach Eric Sommer has taken - constant touring with relevant, meaningful material and near-flawless production - has produced a lot of buzz and put him in the National Spotlight.
The disc and individual songs are currently available on CDBaby, and posters, records, additional merchandise will be available at all performances.
Tour Schedule at the present time is:
• December 22 - Root Bar, Asheville, NC
• December 26 - Virginia Science Museum, Richmond, VA
• December 27 - Wild Wolf Brewery, Nellysford, VA
• December 28 - Black Mountain Brewery, Black Mountain, NC
• December 30 - Horseshow Bend Tap Room, Scottsville, VA
• January 1 - The Saint, Asbury Park, NJ
• January 5 - Jackie O's, Athens, OH
• January 11 - Blind Tiger, Charleston, SC
• January 12 - Smokey Joes, Charlotte, NC
• dates may change so check the Eric Sommer website for the most updates info
Eric Sommer and The Solar Flares will be in Pittsburgh PA recording a new 14 song record from January 4th thru the 9th. The new disk is as yet untitled, but will feature Eric Sommer on guitar and vocals and will contain a more aggressive acoustic based pop sound.
Rainy Day Karma is available as a record and as individual downloads from CDBaby.
Eric Sommer is managed by Clyde is Thinking Music located in Nashville, TN and PR/Marketing activities are managed by MTGNY in NYC. Clyde is Thinking can be contacted directly at 202-255-1995.