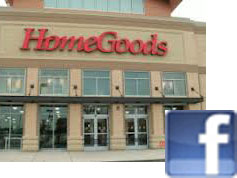 Like our Facebook page and enter to win a $25.00 Gift card.
Riverside, IL (PRWEB) December 14, 2012
Timed to coincide with the holidays, the launch of their new website and their Facebook page, My Designer Online is giving away a $25.00 gift card to Home Goods. This Facebook friends only contest invites friends of the page to fill out a simple form and submit it. Those who are not currently friends of the page are invited to "like" the page and then fill out the form. The contest ends at midnight on December 20, and a winner will be randomly selected from all entries on December 21, 2012.
Home Goods offers high-end designer items also found in department stores and specialty stores, but at significant savings. They carry styles for every taste and for every room. Their gift cards have no expiration date and can be used at any of their stores. Many of the products offered by Home Goods can be viewed at http://homegoods.com. The choice of the Home Goods Gift card fits perfectly with the vision of MyDesignerOnline.com.
MDO is the brainchild of interior designer Maura Braun, who came up with the idea of providing online interior design assistance in 2007. The recent launch of the website is the realization of her dream, and offers a revolutionary new way to create a client's "dream space." This web-based program provides an economical and convenient alternative to expensive interior design services by allowing clients to take an active role. They take measurements, photograph the space and provide further details about the project, and then submit them via a questionnaire on the website. A design plan with 3D renderings, material choices and step-by-step instructions for project completion is delivered via a web page and design booklet. Clients then have the choice of completing the projects themselves, at their own pace, or having the interior designer step in to complete the project.
Maura is a licensed interior designer. 2012 is her 24th year in the interior design industry. Eighteen of these years were as President of Braun Design, Ltd., which served the high end residential interior design market. Maura believes that improving the interior environment will promote productivity and growth. Further information on this innovative concept can be found at MyDesignerOnline.com.